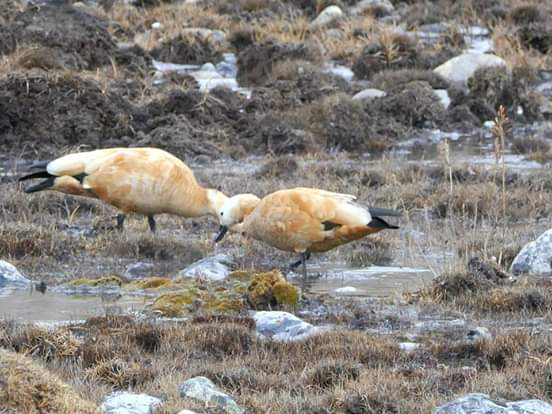 Highlight:                                                                
Enjoy spectacular exotic bird -life in natural surrounding
Great scenic places for bird watch from serene alpine hills to low warm Terai belt
Exciting views with green forest surrounding with various species of birds to watch
Explore Koshi-Tappu probably the best bird sanctuary of South East Asia
Overview:
Nepal Bird Watching Tour of 8 days will be a great exciting tour and journey for bird lovers, for a small country Nepal where 8 % of world's population of birds (more than 857 species); are found from small sparrow to large giant Hornbill to Storks, truly a scenic and paradise for bird watchers due to its varied bio-diversity landscapes for low warm flat-land of Terai belt to Churia (smaller Hills) to mid hills (Mahabharata range) to arctic zone of Greater Mahabharata Himalayan range.
Besides various species of birds it is also home to 02 % of all world flowering plants; 04 % of mammals on earth; 11 of world's 15 families of butterflies (more than 500 species); to 600 indigenous plant families; with 319 species of exotic orchids which makes Nepal Birds Watching Tour of 8 days more interesting where it starts from Kathmandu city with tour of world heritage sites to hills within the valley at high Godvari hills of Phulchoki at above 2,760 m high, one of adjoining hills located south-east rim of Kathmandu Valley and highest hill within Kathmandu valley.
Phulchoki, famous for views of Himalayan peaks from Manaslu – Ganesh Himal towards far west, with Langtang and Jugal Himal straight north, views of Mid-East Himalayan peaks includes Gaurishankar, Melung-Tse, Numbur as far to Mt. Everest and its range.
The area covered with lovely cool forest enriched with exotic flora and fauna with Red-Headed Trogan, a very rare bird sighted here in April 2002 (it was last seen n Nepal 44 years ago) includes many species of exotic bird life to observe.
Nepal Birds Watching Tour of 8 days continues to country far south east to Koshi-Tappu Wild-Life Reserve as well a bird sanctuary where one can witness hundreds species of birds life along with water birds (ducks-pochard-storks-egrets and cormorants) in the comfort of nice jungle lodge / resorts.
Travelers with more time in Nepal White Hill Adventure offers 2 nights and 3 days Chitwan Safari, 4 days safari in Bardiya notational park with time for visit to beautiful Pokhara for days City Tour, while in Kathmandu enjoy Everest flight and Kathmandu's UNSCO Sightseeing or Nagarkot Day Hiking.
Itinerary:           
Day 01: Arrival Day in Kathmandu.
Day 02: Rest day and half day UNESCO sightseeing in Kathmandu.
Day 03: One hourdrive to Godavari then Bird watching trip in Godavari Botanical Garden.
Day 04: Full day bird watching Godavari and Phulchoki Hill.
Day 05: Half day bird watching then drive back to Kathamndu.
Day 06: Kathmandu toBiratnagar by flight then drive toKoshiToppu- 4/5 hours.
Day 07: Full Day Bird watching in KoshiToppu Reserve.
Day 08: Morning bird watching then drive back to Biratnagar, Fly back to Kathmandu.
Include in Price:
Airport drops and pick ups.
Biratnagar to Kathmandu by Flight.
All ground transportation by private Car.
Birds watching tour guide.
All entrance fee.
Car with fuel, parking fee and Driver.
Annapurna Conservation Permit and TIMS.
7 night hotel and tea house.
Exclude in Price:
All meals.
Equipment and clothes.
Travel Insurance.
Shopping, Souvenir and Tips.
Cost Includes
Cost Excludes