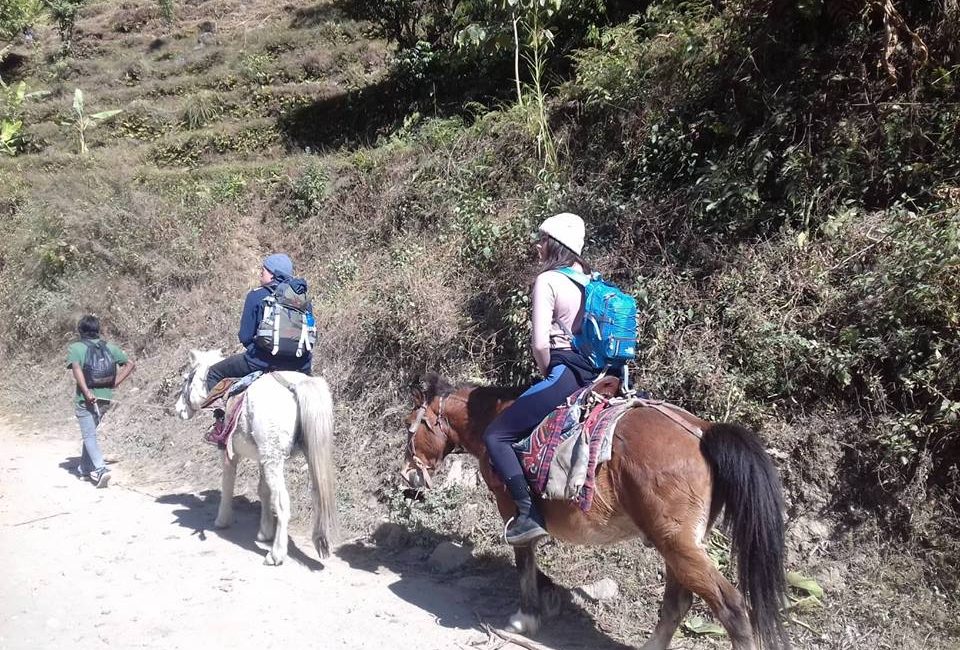 Horse Ride Annapurna Circuit, one of the newest and fresh to start your adventure around Annapurna where ride and walks takes you towards high and beautiful Manang valley enclosed within high mountains.
Horse Ride Annapurna Circuit, actually horse breed around Himalaya known as Tibetan pony, smaller in size than other Arabian horses, where bigger or any other horses cannot survive and adapt on rough terrain, using and riding Tibetan pony the only way to cope with Himalayan landscapes.
Horses or Tibetan ponies are well tamed and domesticated can understand most of the command used by the riders or owners, where you will have excellent time and ride on this amazing Horse Ride on Annapurna Circuit.
Beginning our Horse Ride Annapurna Circuit, with exciting drive to reach at low warm areas of Lamjung district at Besisahar the headquarter town, where our journey and adventure starts following the Marysangdi River towards cooler alpine region at Chame the headquarter and administrative town of Manang district.
From Chame our actual adventure follows through serene woodland of tall rhododendron-oaks and pine tree lines riding along on our good friend horse or Tibetan pony, starting slowly over a trail that leads to Pisang village, where scenic Manang valley starts.
Horse Ride Annapurna Circuit then takes you impressive main Manang village having rest day to support acclimatization with side ride and walks to Ice-Lake or around its scenic areas.
At Manang explore the culture of Manang people intact with colorful Buddhism religion and visiting its interesting monastery of Braga.
After Manang heading due north-west to reach our highest spot of the adventure to cross over Thorang-la pass at above 5,416 m facing breath-taking panorama of high peaks of Dhaulagiri-Mustang Himal-Chulus with Annapurna range of mountains.
Slowly descend towards Muktinath temple premises, a nice village the area regarded as most sacred and holy by both Hindu and Buddhist religion, where hundreds of pilgrims visit this holy spot of Muktinath.
From Muktinath our last final ride and walk to reach at the bottom around Kaligandaki River valley to reach at Jomsom the administrative and major town of Mustang district as well home to Thakali people.
Enjoying pleasant and scenic time at Jomsom and on whole journey within Annapurna Circuit where a short panoramic flight brings you at beautiful Pokhara city to end our fabulous and marvelous Horse Ride-Annapurna Circuit.
Please Note:
From Jomsom where one can drive all the way to Pokhara if not flying as well if weather is not favorable for smooth flight taking overland drive in jeeps and other similar vehicle as transportation.
Horses used on this trip are known as Tibetan pony, a sure footed animal, friendly and docile where most of the riding involves some walks also on narrow path, and within rough terrain where riding is not possible in some sections of the route.
Outline Itinerary
Day 01: Drive to Besisahar – 6/7hrs
Day 02: Drive  to Chame(2,670 m/8759ft) by Jeep– 05 hrs.
Day 03: Horse ride to Pisang(3, 230 m/10597ft) – 05 hrs.
Day 04: Horse ride to Manang Village (3,450 m/11318ft)– 05 hrs.
Day 05: Rest day at Manang. Horse ride around local place  (Ice lake 4600m/15091ft) and acclimatization.
Day 06: Horse ride to Yak Kharka(4,110 m/13484ft)– 04 hours.
Day 07: Horse ride to Thorong High Camp (4,600 m/15091ft)– 04 hrs.
Day 08: Horse ride to Cross Thorong-La Pass (5,416 m/17769ft)and to Muktinath(3,800 /12467ft) – 07 hrs.
Day 09: Horse ride to Jomsom(2,715 m/8907ft) – 05 hrs.
Day 10: Drive or fly back to Pokhara (850m/2788ft).
Day 01: Drive to Besisahar - 06/7 hrs.
Morning with interesting and scenic long drive towards Nepal mid west, journey leads to Besisahar as journey follows beyond Kathmandu valley to reach around Nepal Mid-West at Lamjung district at Besisahar, headquarter town of Lamjung area, on reaching transfer into nice lodge and hotels, with to browse around the town street and observe local Gurung culture.
Day 02: Drive to Chame 2,670 m/ 8,759 ft by Jeep - 05 hrs.
From this interesting town, where drive follows on dirt road to Khudi, Bhulbhule and Ngadi to follow Marysangdi River upstream, drive continues through rice terraces fields and villages to Syange, from here with a slow climb leaving the Marysangdi River behind to reach first overnight stop at Jagat village.
After Jagat drive leads towards cool alpine areas through nice woodland to reach at Chame, a major town of Manang district.                                                                 

Day 03:  Horse ride to Pisang 3, 230 m/10,597 ft - 05 hrs.
In Chame where our guide will make ready with friendly animal horse or Tibetan pony, with complete saddle to sit and ride, where morning ride with some walks takes you into beautiful green forest to reach to cross a bridge and then climb on top of a hill facing views of Pisang peak with Annapurna II and III.
The hill top a small place called Dhukure Pokhari with few teahouses and lodge, from here walk or ride with long descend to reach at lower Pisang village for overnight stop.
Day 04: Horse ride to Manang Village 3,450 m/11, 318ft - 05 hrs.
Pisang village offers great scenery of mountains and surrounding landscapes, from here altitude gains as the morning walk leads through forest and with a short uphill with super views of staggering Annapurna II and III, Gangapurna Chulu's and Pisang peak. As the walk reach flat valley at Hongde village, from here onward tree lines disappear for barren, arid landscapes with cold, dry arctic climate.
Before Manang, visit old Braga monastery with old Buddhist relics, ancient wall painting and frescos and stunning views of Annapurna Himalaya, from here an hour walk reaches at Manang village.
Day 05: Rest day at Manang ride around local place Ice Lake 4,600m/15091 ft and acclimatization.
An important and necessary rest day to get acclimatize before heading higher elevation towards Thorang-la pass, in Manang short hike and explore Manang village and valley, Manang a large village situated on windswept valley at the bank of Marysangdi River beneath Annapurna and Gangapurna mountain range, a nice walk uphill for views of Gangapurna Glacier and the Manang emerald Lake.  Other options start early morning hike or horse ride to Ice Lake located above Manang valley.
Day 06: Horse ride to Yak Kharka 4,110 m/13,484 ft-04 hrs.
After a good time at Manang morning adventure leads towards uphill trail riding and walking to Yak Kharka, an interesting high altitude journey with super views of snowcapped mountains, and then crossing a small stream to reach Yak Kharka a small settlement, offering tremendous views of Gangapurna, Annapurna III and Chulu Peaks.
Day 07: Horse ride to Thorang High Camp 4,600 m/15,091 ft - 04 hrs.
Morning ride and walk advances around high area, heading closer to the base of Thorang-la as ride or walk leads to cross a bridge and then a climb along the river bank of Jarjung, as pleasant ride leads at Thorang Phedi, here depending upon the physical conditions of the clients, if all goes well an hour steep climb to Thorang High Camp for overnight stop.
Day 08: Horse ride, trek to cross Thorang-La Pass 5,416 m/17,769 ft to Muktinath 3,800 /12467 ft -07 hrs.
A long and big day of this great adventure, after an early breakfast ride and walk leads to a long climb all the way on top Thorang-la within a steep terrain riding on winding path to Thorang La Pass at 5,416 m / 17,769 ft.
The highest point of this adventure offering super views of snow-capped peaks, and then a long descend to Muktinath at 3,800 m.
On reaching Muktinath for overnight stop, a holy place for both Hindus and Buddhists the word Muktinath literally means 'the place for Nirvana or Liberation'.
Day 09: Horse ride to Jomsom 2,715 m/ 8,907 ft - 05 hrs.
Today the last final day of the walk and horse ride, after Muktinath rest of the journey is easier with moderate walk and horse ride all the way to Jomsom as route drops below 1,200 m downhill to Kaligandaki river valley, a pleasant trail on reaching wide Kaligandaki river valley taking a small break at Ekalebhatti.
From here gets windy in the afternoon time, a few hour ride to Jomsom, headquarter of Mustang region with an airstrip located above Kaligandaki River.
Here at Jomsom with last night in the mountain village, celebrate with local apple products like cider, brandy and juice this area from Kagbeni to Marpha & Larjung famous for delicious apple and its product.
Day 10:  Drive or fly back to Pokhara 850m/2,788 ft.
Early breakfast and transfer to Jomsom airport for sweeping short flight less than 25 minutes flight to Pokhara, during airborne spectacular views of Dhaulagiri, Nilgiri's and Annapurna range of mountains with rolling hills dotted with farm villages,
On reaching Pokhara airport transfer to respective hotels by the serene lake Phewa, afternoon free for individual activities or just relax and enjoy the views of the Annapurna Himalaya.
Cost Includes
All needed transport By Bus.
Hotel pick up/drop by taxi.
Fly to Pokhara from Jomsom
Horse Ride
Food (Breakfast/Lunch/Dinner) During a Trek.
Mountain Accommodation (Tea houses)
Excellent Guide (Food, Salary, Insurance, equipment).
All needed Mountain Trekking Permit.
Cost Excludes
Tea,coffee,beer,cola,mineral water,hot water , Wi-Fi  ,battery charges ,hot shower etc.
Your all equipment.
Your Travel insurance.
Tips.
FOR HEAD
Sun hat / Scarf
Sun glasses and Head light
FOR UPPER BODY
Water Proof Jacket
Down Jacket / Warm Jacket
Light Weight T-shirt (At least 1 pair)
FOR LOWER BODY
Water Proof Pants
Running tights
Light Weight Pant
FOR HAND
Gloves
FOR FEET
Thin Inner socks (At least 2 pairs)
Woolen socks
Trekking boots (preferred comfortable boots)
OTHER ACCESSORIES
Sleeping bag
Water bottle etc
Suncream
Water purification tablets
Toiletries (Toilet paper etc)
Warm hat
Trekking Bag Etc.