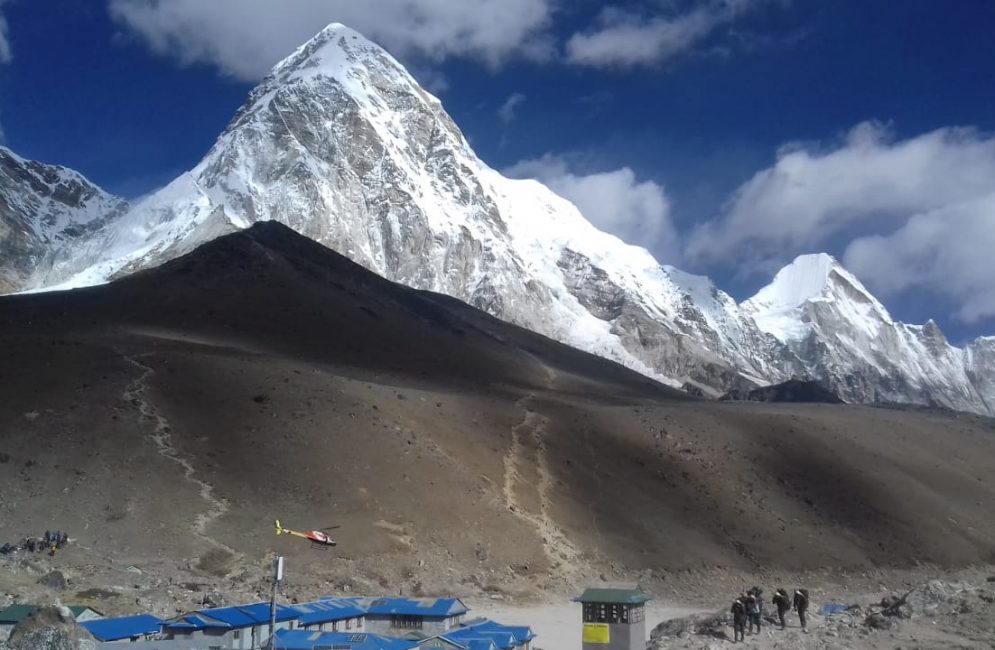 30 Days to Pumori Expedition Introduction
Pumori Expedition – 30 Days, one of the finest and magnificent mountains to look, located within close around Everest Base Camp and high scenic Kalapathar hill.
A lofty and a dome-shaped peak rises at the height of above 7,161 meters and 23,495 feet high, the mountain straddles the border between Nepal and Tibet-China beyond its North Face, located within Khumbu valley of Sagarmatha zone at 28 00 53 Latitude and 86 49 41 Longitude.
Pumori Expedition-30 Days will cover all treks and climbing duration with enough time for acclimatization, practice including final preparations for the great classic climb on top the summit of Mt. Pumori.
30 Days Pumori Expedition will be a great experience and adventure thrill climbing on above 7,000 m peaks of Nepal Himalaya; we have carefully planned and designed this great Pumori Expedition-30 Days, allowing ample space to tackle with technical difficulty on route to its summit top.
A mountain of great perfection where the climbing grade is of full fledge mountaineering expeditions, where all members require good physical fitness and knowledge in using climbing gear as required for the climb.
Pumori Expeditions of 30 Days starting from Kathmandu taking a swift short flight to reach Lukla, where the adventure begins to reach at famous Namche Bazaar after walking past nice villages of Phakding and Monjo.
The route for Pumori Expedition
At Namche with acclimatization and rest days where one can hike to the viewpoint as well immerse within impressive Sherpa colorful culture of Buddhism religion.
From Namche heading towards many green hills covered by beautiful woodland at Tengboche Monastery with fabulous views of Everest-Amadablam and other range of peaks that surround this scenic spot with the interesting monastery.
After Tengboche walk into the wild and mountainous country as walk leads past Pangboche-Dingboche villages with some rest day for hike and acclimatization as walks get closer to our main destination at the base of Mt. Pumori facing incredible views of surrounding mountains with Everest-Lingtrin-Chamlang-Nuptse and Lhotse peaks.
Pumori Expeditions – 30 Days provides you time at base camp for practice and with final preparations for the last assault on top Pumori summit of 16 days to prepare and plan as well making for final bid using few more high camps to the summit top.
On reaching the summit of Mt. Pumori enjoy a spectacular panorama of Everest Base camp, Summit of everest, and range of Khumbu peaks with views of Rongbuk on Tibetan side.
With enjoyable and strenuous climb on top, our main goal and highlight then back to Namche and towards Lukla on the same route with the flight out of Lukla to reach Kathmandu, where our most adventurous and remarkable mountaineering experience on Pumori Expeditions -30 Days concludes.
Pumori Climbing Outline Itinerary
Day 01: Kathmandu (Tribhuvan Int´l Airport) to Lukla (Tenzinghilliarry Airport) early morning 30 minutes scenic flight then Trek to Phakding (2,612 meter/8570 feet) – 3/4 hours.
Day 02: Trek to NamcheBazzar (3,440 meter/11,287 feet) via SagarmathaNatinalpark check post- 6/7 hours.
Day 03: Acclimatization (rest) day in NamcheBazzar.
Day 04: Trek to Tengboche Monastery (3860 meters/12665 feet)-5/6 hours.
Day 05: Trek to Dingboche (4410 meters/14,468 feet)-4/5 hours.
Day 06: Acclimatization (rest) day in Dingboche.
Day 07: Trek to Lobuche (4,940 meters/16208 feet)-3/4 hours.
Day 08: Pumori Base Camp (5400 meters / 17,717 feet)-2/3 hours.
Day 09: Acclimatization and pre climbing training at PumoriBase Camp.
Day 10 to 26: Pumori (7,161 meters/ 23,495 feet) Expedition summit period.
Day 27: Trek down to Pheriche (4,137 meters/14,340 feet)-3/4 hours.
Day 28: Trek down to NamcheBazzar (3,440 meter/11,287 feet)-6/ 7 hours.
Day 29: Trek Down to Lukla (2,860meter/ 9,383 feet)-6/7 hours.
Day 30: Lukla (Tenzinghilliarry Airport) to Kathmandu (Tribhuvan Int´l Airport) fly back.
Day 01: Kathmandu (Tribhuvan Int´l Airport) to Lukla (Tenzing Hillary Airport) early morning 30 minutes scenic flight then Trek to Phakding (2,612 meter/8570 feet) - 3/4 hours.
From the hotel transfer to Kathmandu airport on domestic terminal for panoramic flight to Lukla, a gateway town to various adventure around Everest region, as walk starts on easy gradual trail to reach at Phakding village on route with views of peaks.
Day 02: Trek to Namche Bazaar (3,440 meter/11,287 feet) via Sagarmatha National park check post- 6/7 hours.
Start morning walk on pleasant path with few short ups and down crossing a long bridge over Dudh-Kosi River to reach at Monjo village near Sagarmatha National Park entrance, after a short time here cross over a bridge to Jorsalle, the last village before Namche. Where walk leads on river banks and then climb after going through a long and high bridge, route takes you on winding uphill facing tremendous views of high snow capped peaks till Namche Bazaar is reached for overnight stop.
Day 03: Acclimatization (rest) day in Namche Bazaar.
A perfect place with right altitude for rest and acclimatization days, where taking a hike up hill to view points for excellent panorama of Everest-Lhotse-Nuptse with Amadablam and range of lesser peaks. At Namche visit its interesting museum full of information that offers culture and mountaineering history of the area, with rest of the afternoon at leisure.
Day 04: Trek to Tengboche Monastery (3,860 m/12,665 feet)-5/6 hours.
From Namche an easy walk in the morning time with grand views of Everest and Amadablam, as our route descends to Imjatse River and then climb into serene woodland to reach at beautiful place at Tengboche Monastery for overnight stop. Tengboche offers super panorama of peaks with Everest and close views of Amadablam, with time to visit its interesting monastery surrounded within views and green woodland.

Day 05: Trek to Dingboche (4410 meters/14,468 feet) - 4/5  hours.
Morning on leaving Tengboche on downhill to a river, with slow climb to Pangboche village, from here landscapes change tree lines fades to short bushes with views of Amadablam and range of peaks as walk slowly enters a beautiful scenic valley of Imjatse on reaching at Dingboche for overnight stop.

Day 06: Acclimatization (rest) day in Dingboche.
At Dingboche with rest day to support with acclimatization process, where short hike takes you to high Nakarjung hill for excellent views of surrounding peaks with Island peak includes North Face of Amadablam with Makalu in the east direction, afternoon take a stroll around with easy afternoon enjoying grand views of beautiful scenery of mountains.

Day 07: Trek to Lobuche (4,940 m/16,208 ft)-3/4 hours.
From Dingboche short climb to a ridge and then on gradual up trail to reach a small place at Thugla for possible lunch break, as afternoon walk leads to a steep climb and then on easy with high altitude gain to reach at Lobuche for overnight stop.

Day 08: Pumori Base Camp (5,400 m / 17,717 ft)-2/3 hrs.
After a pleasant overnight at Lobuche walk leads on easy up with short climb where one can visit glass pyramid (Geological and Weather Research Station a joint venture of Italy and Nepal) from here walking over glacier and moraine to reach at Gorakshep. Gorakshep located beneath Pumori and Kalapathar hill as well on route to Everest and Pumori base camps, after a break here continue walk towards east to reach a flat field over moraine to set base camp for the climb of Mt. Pumori.

Day 09: Acclimatization and pre climbing training at Pumori Base Camp. A free day to get organized for the climb, preparations for the long ascent to the summit of Pumori with time to hike around for acclimatization and to scout the route as well for safe climb, optional hike to Kalapatthar at 5,545 meters or to Everest Base Camp which is at close distance.

Day 10 to 26: Pumori (7,161 meters/ 23,495 feet) Expedition summit period.
These 17 days duration busy with climbing preparation and ferrying loads to higher camps, after a good rest with final preparation at base camp, adventure starts over moraine above icy pond to reach at the foot of Mt. Pumori, establish advance base camp. The climb with enough precaution against possible avalanche that is common on Mt. Pumori for safety and technical difficulties camp I and Camp II can be added after advance camp. From the last camp climb over rocks and ice moraine ridges roughly westwards to a broad saddle with super view of Mt. Everest and from here route leads straight north through boulders to a ridge above 6,000 meters. Follow our expert guide to the summit top of Mt. Pumori where you feel high on top of the world standing at 7, 161 meters with glorious panorama of surrounding peaks with Mt. Everest at close distance as well looking over Rongbuk valley in Tibet side. After a long climb to the summit with grand views descend back the same route towards Base Camp using Camp I and II on the way back. Cleaning day of all the rubbish and collect to bring it back, to be handed back to the SPCC (Sagarmatha Pollution Control Committee) or to bring back to Kathmandu this is important to collect the garbage deposit money back and to keep the Himalayan environment free from pollution.
Day 27: Trek to Pheriche (4,137 m/14,340 ft)-3/4 hours.
After a great adventure on top Mt. Pumori and taking care of rubbish and packing completely walk back on the same trail to Thugla after Lobuche. Where our route diverts downhill to Pheriche valley with easy walk to our overnight stop in Pheriche with number of good lodge to stay, Pheriche also has HRA post (Himalayan Rescue Association).
Day 28: Trek to Namche Bazaar (3,440 m/11,287 ft) - 6/ 7 hours.
After Pheriche and climb of Mt. Pumori head downhill nd back to lower altitude and tree lines, as walk leads past Pangboche and from the bridge an hour climb brings to Thyangboche Monastery. From here descend to Imjatse River at Phunge-Tenga, after crossing a bridge a steep uphill for an hour then on winding path all the way to Namche Bazaar for overnight stop. from Namche on the downhill path to Dudh Kosi River bank, from here with short ups and downs to reach the Sagarmatha National Park entrance and then Monjo village for overnight stop in this quaint nice village.

Day 29: Trek to Lukla (2,860 m/ 9,383 ft)-6/7 hours.
After a memorable adventure and experience on Pumori Expeditions, last day walk of this fascinating journey, from here retrace the trail back to Lukla on the gradual winding trail passing Phakding and Ghat village then with the last uphill climb to Lukla for lunch and overnight stop, evening time enjoy the last meal with fellow trekkers, staffs and porters.

Day 30: Fly to Kathmandu and transfer to hotel.
From Lukla the flight starts early morning to Kathmandu, sometimes flight time can get delayed due to bad weather, as per flight time board on al plane for a super, scenic flight back to Kathmandu, on reaching at Katmandu domestic terminal transfer back to your respective hotels in the hub of Kathmandu.
Cost Includes
Airport pickups and drops.
Lukla to Kathmandu and Lukla to Kathmandu both way flight tickets.
All meals (B/L/D) while trekking/climbing as indicated by the itinerary.
All mountain Tea house/Accommodation (Sharing basis tents or guest house).
Pumori Climbing Permit.
Garbage deposit.
Sagarmatha National Park and Local Permit Cards.
English speaking, trained and experienced trekking and climbing Sherpa Guide
Porter Service (Two trekkers=one porter).
All insurance for guide(s) and porter(s).
Guide (s) and Porter(s) costs including their salary, equipment, transportation, food and teahouse.
North face quality tents and good kitchen equipment.
Group Climbing equipment (like ropes, Ice-Screw, snow bar….).
Welcome or farewell dinner.
All Government and Local taxes.
Cost Excludes
Personal Climbing and trekking gears (equipment).
Duffel/trekking bags.
Excess Baggage Charges (If you have more than 15 kg luggage).
Medical and Rescue Insurance.
Hot and cold Drinks.
All foods and beverages other than on the itinerary.
Personal Expenses (Laundry Service, Phone Calls, Battery Charge, Bar bills, Hot Shower Boiled water etc.)
Tips for guide(s), Porter (s) and driver.
For Head
Sun hat / Scar
Sun glasses and Head light
For Upper Body
Water Proof Jacket
Down Jacket / Warm Jacket
Light Weight T-shirt (At least 1 pair)
 For Lower body
Water Proof Pants
Running tights
Light Weight Pant
For hand
Gloves
For  Feet
Thin Inner socks (At least 2 pairs)
Woolen socks
Trekking boots (preferred comfortable boots)
Other accessories
Sleeping bag
Water bottle etc
Suncream
Water purification tablets
Toiletries (Toilet paper etc)
Warm hat
Trekking Bag Etc.
Other Climbing Equipment
Harness
Zummer
Crampons
Ice axe
Plastic boot
Carabineers
Helmet etc.