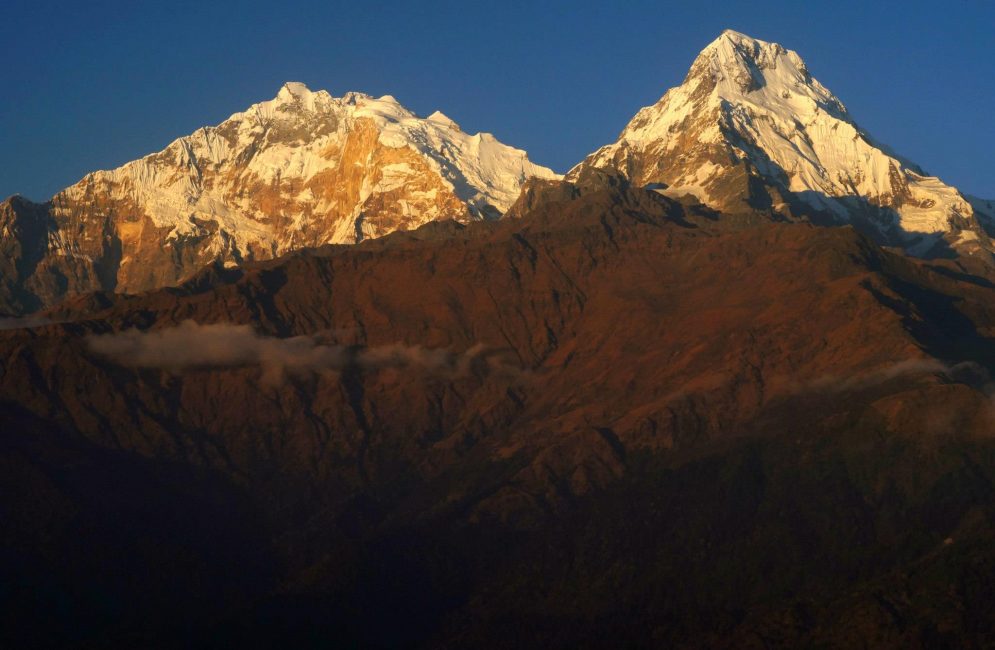 Khayer Lake Trekking, very different to other popular walks around Annapurna region, where adventure takes you to hidden areas away from main stream trails beyond villages and human settlement within complete wilderness of mountains and dense woodland.
Khayer Lake Trekking an ideal and perfect journey around high hills in the close shadow of massive Annapurna range of mountains, where walk takes you scenic ridges close between Dhaulagiri and Annapurna Himalaya facing exceptional panorama of peaks.
Khayer Lake Trekking an adventure with cultural walks into interesting farm villages of Gurung and Magar-Poon people the hill tribe of the region where you can explore and soak into its colorful custom and heritage farm life.
Starting Khayer Lake Trekking from scenic city at Pokhara, where drive leads further west to reach trekking points of the walk and then heading away from low warm paddy fields to reach cooler alpine hills at Ghandrung village unto Tadapani.
During walks with glamorous panorama of Annapurna chain of peaks and then entering deep forest surrounding into cattle herders shades and grazing areas to reach at hidden lakes.
Enjoying time within tranquil environment where adventure continues to climb up at Khopra ridge a scenic spot with breath-taking views of Dhaulagiri-Nilgiri's-Vara Shikar (Annapurna Fang) with Annapurna South at close distance.
At Khopra ridge with time to visit holy lake of Khair a religious Hindu sites where once a year festival takes place, where pilgrims comes for a dip in the sacred lake of Khair hidden between massif peaks of Annapurna.
After a great time around remote and hidden areas of Annapurna, where walk leads to join on the main trails to reach back into farm villages and downhill to hot-spring at Tatopani village, and then our great marvelous Khayer Lake Trekking completes with drive back to beautiful Pokhara.
Outline Itinerary
Day 01: Drive from Pokhara to Kyumi trek to Ghandruk(1940m/6364ft). 4/5hrs
Day 02: Trek to Tadapani(2630m/8628ft). 04 hrs
Day 03: Trek toDobato(3349m/10987ft).04hrs
Day 04: Trek to Bayeli (3437m/11276ft) Hike around Hidden Lake(4372m/14343).06/07hrs
Day 05: Trek to Khopra hill (Khopra Danda 3660m/12007ft). 5/6 hrs
Day 06: Rest day Khopra Hill , Trek to Khayar Lake (4620m/15157ft).
Day 07: Trek to Tatopani (Hot spring)(1190m/3904ft).05/06 hrs
Day 08: Drive to Pokhara(860m/2821ft).05/06 hrs
Day 01: Drive from Pokhara to Kyumi and trek to Ghandruk 1,940 m / 6,364 ft -04/5 hrs.      
After a pleasant overnight stop at Pokhara facing views of Annapurna Himalaya range of mountains with Machhapuchare peaks 'Fish Tail', having hearty breakfast in the hotel then drive beyond Pokhara to commence our first day walks.
Journey with grand views of Annapurna heading past farm villages and towns and then by reaching at the bank of Modi River to reach at Kyumi farm village, from here walk starts on stone steps uphill to reach a large Gurung village at Ghandruk, at At Ghandruk overnight in a nice lodge with view of Annapurna peaks with time to visit around Gurung village.
Day 02: Trek to Tadapani 2,630 m / 8,628 ft -04 hrs.
From Ghandruk walk to the top of the village an hour climb and then on gradual winding walk past farm villages with views of Annapurna peaks to reach a stream, after crossing the small stream with uphill climb into dense woodland to reach at a small place of Bhainse Kharka.
After a refreshing stop continue walk on pleasant path into thick forest of rhododendron, oaks and pine trees to reach at scenic spot in Tadapani, a settlement to cater the needs of the trekkers facing views of Annapurna South and Machhapuchare Himal 'Fish Tail' peaks.
Day 03: Trek to Dobato 3,349 m /10,987 ft-04 hrs.
At Tadapani morning offers stunning sunrise over chain of peaks, having breakfast where walk leads in the hidden path away from main trails and villages for some days.
As walk progress and then climb into forested areas to reach at Dobato facing tremendous views of Annapurna peaks, a peaceful spot in the middle of forest.
 Day 04: Trek to Bayeli 3,437 m/11, 276 ft hike around Hidden Lake 4,372m / 14,343 ft -06/07 hrs.        
Enjoying morning views of Annapurna and Fish Tail peaks, where walk leads into dense woodland past grazing land with ups and downs facing close to mountain views and then reaching a remote and isolated spot at Bayeli, a summer pasture for local villager's cattle's where you can have side walk and hike to a small glacial and clear Hidden Lake.
Overnight stops within tranquil environment overlooking close views of Annapurna mountain range within beautiful surrounding.
Day 05: Trek to Khopra hill (Khopra) 3,660 m/ 12,007 ft- 05/6 hrs.
On leaving Bayeli where heights gains slowly leaving tree lines behind where few hours of scenic walk reach you at Kopra ridge for overnight stops, offers scenic views of landscapes facing massive range of Mt. Dhaulagiri with Vara Shikar (Annapurna Fang), Annapurna South from this wonderful spot.
Day 06: Rest day Khopra Hill and Hike to Khayer Lake 4,620 m /15,157 ft.
Morning hike to holy lake at Khair Lake located at 4,620 m. which is a long walk, but worth facing close views of giant mountains, it is religious site, where festival held annually around the month of August and September.
Villagers from Annapurna area visits to worship and prayer to Lord Shiva and bathe in the icy waters, as well sacrifices sheep and goats, after a great moment head back to Khopra ridge for overnight stops with constant views of peaks.
Day 07: Trek to Tatopani (Hot spring) 1,190 m-05/06 hrs.
With enjoyable and memorable times facing exceptional beautiful scenery from Kopra Ridge, morning a long walk on downhill to join the main trekking trails to reach Ghara village on the route low warm areas of Kaligandaki River, and then gradual walk to Tatopani a lovely village with nice lodges and hotels.
At Tatopani with time enjoy the refreshing natural hot spring near the village located at the bank of Kaligandaki River having two pools for a dip in hot spring waters.
Day 08: Drive to Pokhara 860m/2,821ft -05/06 hrs.
After a refreshing and pleasant time at Tatopani our walks ends taking a drive back to Pokhara, as morning drive leads at Beni and Baglung town, and then on good road of 3 to 4 hours exciting journey to reach at scenic Pokhara for last overnight stop by its calm Phewa Lake.
Cost Includes
All needed transport By Bus.
Hotel pick up/drop by taxi.
Food (Breakfast/Lunch/Dinner) During a Trek.
Mountain Accommodation (Tea houses)
Excellent Guide (Food, Salary, Insurance, equipment).
All needed Mountain Trekking Permit.
Cost Excludes
Tea,coffee,beer,cola,mineral water,hot water , Wi-Fi  ,battery charges ,hot shower etc.
Your all equipment.
Your Travel insurance.
Tips.
FOR HEAD
Sun hat / Scarf
Sun glasses and Head light
FOR UPPER BODY
Water Proof Jacket
Down Jacket / Warm Jacket
Light Weight T-shirt (At least 1 pair)
FOR LOWER BODY
Water Proof Pants
Running tights
Light Weight Pant
FOR HAND
Gloves
FOR FEET
Thin Inner socks (At least 2 pairs)
Woolen socks
Trekking boots (preferred comfortable boots)
OTHER ACCESSORIES
Sleeping bag
Water bottle etc
Suncream
Water purification tablets
Toiletries (Toilet paper etc)
Warm hat
Trekking Bag Etc.