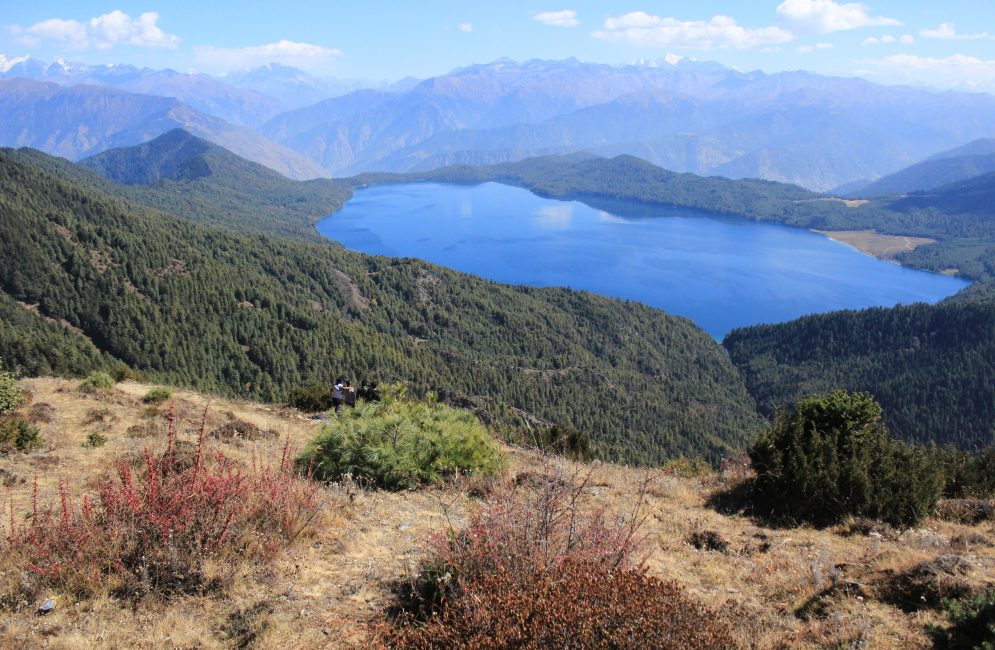 Highlight:
Largest Lake of Nepal within pristine environment surrounded by beautiful woodland and scenery
Forest enriched with deciduous tree species Indian horse-chestnut; walnut and Himalayan popular are found.
Rara National Park ideal habitat for Musk deer and other animals like Himalayan Thar and wild boar.
On least ventured region of Nepal far wild-west by foreign visitors due to its remote pristine location
Lead you with exciting overland drive covering Terai-low lands, mid and high scenic green hills.
Overview:
Rara Lake Tour a 6 Nights and 7 Days holiday in and around beautiful areas of Nepal Far North West Himalaya region within country largest Rara Lake that covers 10.8 sq.kms at the height of 2,990 m high situated within pristine surrounding of lovely coniferous wood-land of tall blue pine, black juniper, West Himalayan spruce, oak, Himalayan cypress and various other associated species, which makes perfect habitat for wild-life like Musk Deer, Himalayan Thar and other animals with much bird-life with common Resident Gallinaceous birds and migrant waterfowl commonly sighted around this exotic area.
Rara Lake Tour of 6 Nights and 7 Days will certainly makes visitors in high spirit within its picturesque environment of rolling green hills, snow capped peaks that reflects on Rara Lake, where one can enjoy short hike around the lake in the harmony of serene natural surroundings, where drive starts from the capital Kathmandu to reach Nepal Far South West and then over hills and valleys past nice town and farm villages to reach at amazing spot at Rara Lake.
Rara Lake Tour 6 Nights and 7 Days package will be a great marvelous journey into ancient country where Nepalese and language and history originated from old kingdom of Sinja close to Rara Lake and its lovely National Park with an area of 106 SQ. KMS that extends from Jumla to Mugu district of western Nepal, a delightful country to visit and experience.
Travelers can visit Bardia National Park for safari, Chitwan National Park and Pokhara City Tour for holiday extension, Rara National Park can be visited taking a normal short flight or by Helicopter.
Itinerary:
Day 01: Kathmandu to kohalpur (505 km) by private Scorpio- 10/11 hours. Overnight Stay.
Day 02: Drive to Manma, Kalikot (250 km) by private Scorpio- 8/9 hours. Overnight stay.
Day 03: Drive to Rara (58 km) by private Scorpio with 2 hours walk – 7/8 hours. Overnight stay.
Day 04: Visiting Rara and Hiking. Hotel, Overnight Stay.
Day 05: Two hours walk then drive back to Manma (58 km) by private Scorpio- 7/8 hours. Hotel, Overnight Stay.
Day 06: Drive back to Kohalpur (250 km) by private Scorpio- 8/9 hours. Hotel Overnight Stay.
Day 07: Drive back to Kathmandu (505 km) by private Scorpio- 10/11 hours.
Include in Price:
All transportation by Private Scorpio/Jeep.
Scorpio with fuel, parking fee and Driver.
Rara Permit.
Tour guide
All Hotels
Meals
Exclude in Price:
Shopping, Souvenir and Tips.
Cost Includes
Cost Excludes