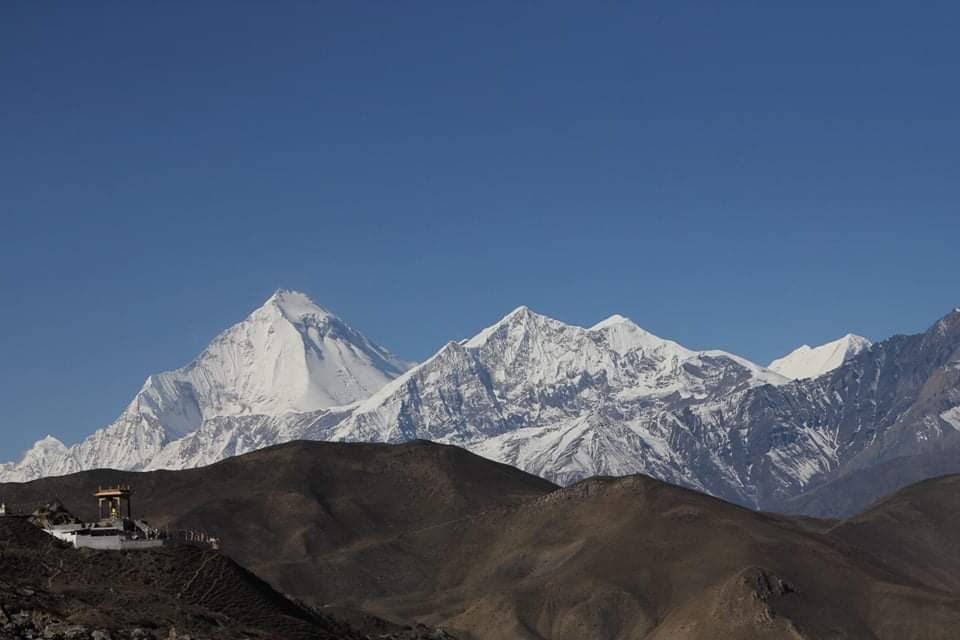 Upper Mustang trekking an adventure within Nepal Far North Western Himalaya, close to the border of Tibet, as well an extension of Tibetan plateau or table-land located beyond high Dhaulagiri and Nilgiri's mountains.
Due to its location of Upper Mustang trekking where one can visit even in monsoon wet months of July and August, as it falls within rain-shadow areas with sparse rainfalls  that is why the country is dry and rugged but with beautiful landscapes.
Upper Mustang trekking leads you to photogenic area enclosed within high eroded cliffs and canyons of varied colors which makes the region one of best scenic spot in all Himalaya region.
Once a forbidden country and its former ancient walled kingdom Lo-Manthang, been exposed to the world just past three decades where trekkers can visit this amazing land enriched with old Buddhism culture and religions with Bon sect practice (a pre-Buddhism).
Upper Mustang Trekking, begins with short scenic flight from picturesque Pokhara city to land at Jomsom, the headquarter town of Mustang district and home to Thakali people on this old Trans-Himalayan Salt Trade Route that extends towards Upper Mustang to reach the frontier of Tibet-China via Karo-la pass.
Jomsom the starting and ending town of Upper Mustang Trekking, where walk leads to flat Kali-Gandaki River valley to reach at Kagbeni and towards Chele, Geling and Tsarang villages of great interest lined with prayer walls and bells with religious monuments.
As walk progress heading over high scenic pass with magnificent views of dramatic landscapes with snowcapped peaks of Mustang Himal, and then entering into former walled kingdom at Lo-Manthang, an impressive medvial type town / village.
Here with ample to visit its impressive monasteries as well the old fort palace of former Raja (king) of Mustang where return journey leads back on the same route to Jomsom for sweeping scenic flight to reach at famous touristic spot in Pokhara, after a remarkable and most fascinating time on Upper Mustang Trekking.
Outline Itinerary
Day 01: Morning flight FromPokharato Jomsom(2,715 m/8907ft)and trek to Kagbeni – 04 hrs.
Day 02:Trek to Chele(3,050 m/10006 ft) – 06 hrs.
Day 03: Trek to Geling(3,540 m/11614 ft) – 05 hrs.
Day 04: Trek to Tsarang(3,560 m/11679 ft) – 06 hrs.
Day 05: Trek to Lo Manthang(3,700 m/12139 ft) – 05 hrs.
Day 06: LoManthang rest day for acclimatization and local visit.
Day 07: Trek to Dhakmar(3,810 m/12500 ft) – 06 hrs.
Day 08: Trek to Ghiling(3,806 m/12483 ft) – 06 hrs.
Day 09: Trek to Tsusang(2,980 m/9776 ft) – 06 hrs.
Day 10: Trek to Jomsom(2, 715 m/8907 ft) – 06 hours.
Day 11:Fly from Jomsom to Pokhara(860 m/2821 ft) – 25 minute flight.
Day 01: Morning flight Pokhara to Jomsom 2,715 m / 8,907ft and trek to Kagbeni–04 hrs.
Morning transfer to Pokhara airport for super scenic flight to land at Jomsom airport, situated above Kali-Gandaki River.
Jomsom headquarter and administrative town of Mustang district, here with short break, start our first day walk heading towards wide Kali-Gandaki River valley following a river bed all the way to reach at Kagbeni village.
Kagbeni, located on the entrance to Upper Mustang and beyond to Tibet border on this old Trans Himalayan Salt Trade Route of Nepal and Tibet.
Day 02: Trek to Chele 3,050 m/10,006 ft - 06 hrs.
Having pleasant overnight stop in Kagbeni and exploring around this exciting village, morning walk heads to short uphill and into open areas enclosed with towering colorful canyon and high eroded cliffs then reaching at Tiri-Gaon village with well cultivated farm fields.
Walking within beautiful landscapes with short up and downs and on winding path to reach at Chele, a village of moderate size from here into more Buddhism cultures and custom similar to Tibet located across the border.
Day 03: Trek to Geling 3,540 m/11614 ft - 05 hrs.
From Chele walk starts with short climb to reach Gyakar village within windswept and arid country, as walk reaches at Samar village, one of the most attractive villages.
With time at Samar village continue walk to reach a small place Bhena and then steep climb leads on top Yamda La at 3,860 m, a small pass, offers views of Upper Mustang landscapes with high snow capped peaks of Mt. Dhaulagiri and Mustang Himal range.
Enjoying great views downhill to Syangboche village another interesting village, as walk finally ends at Geling for overnight stop in this nice traditional village.
Day 04: Trek to Tsarang 3,560 m/11679 ft - 06 hrs.
After wonderful overnight stop in Tsarang, morning visit old monastery, observe Buddhist prayer wheels propelled by flowing water, after an interesting tour of the Gompa or monastery, walk continues to Ghami village.
As walk proceed then cross over Ghaymi Khola (stream) and then heading within long series of Mani walls (holy prayer stones), and then from here walk past Dhakmar village, and then finally reaching our overnight stop at Tsarang village, an impressive place surrounded by vast fields of buck wheat's and barley.
Here with time to visit its old monastery of great interest enriched with ancient religious relics and painting on walls and ceiling with great statue of Buddha.
Day 05: Trek to Lo Manthang 3,700 m/12,139 ft-05 hrs.
From Tsarang journey leads to our major highlight to reach into former walled kingdom at Lo-Manthang, a large village inside the fort known as Dzong guards the town-village of Lo-Manthang.
A few hours of good walk takes you into Lo Manthang, a former kingdom where great Raja (king) of Mustang ruled the whole kingdom of Lo known as Mustang.
Day 06: Lo-Manthang rest day for acclimatization, local visit.
At Lo Manthang within former kingdom of Upper Mustang, a free day to explore its narrow neat street around impressive villages with houses of Tibetan design and carving.
Here visit its historical and cultural centre one of the main attraction of Lo-Manthang, with four grand monasteries of Namgyal Gompa, Champa Lakhang (God House), Red Thubchen Gompa, Chyodi Gompa and its Great Entrance Hall, a special permission to enter Raja or king's palace interior of the palace.
Day 07: Trek to Dhakmar 3,810 m/12,500 ft - 06 hrs.
After an enjoyable and impressive time inside Lo-Manthang, walk back towards lower areas to reach Jomsom with few short climb to reach at Dhakmar near Ghami for overnight stop, one of the important village of Upper Mustang region.
Day 08: Trek to Ghiling 3,806 m/12483 ft - 06 hrs.
Morning walk leads on same trail with a climb up to Nyi La pass, and then contour upwards to reach the path coming from Tsarang village, from ridge top descend to Ghiling Valley, as walk continues to reach at Giling for overnight stop.
Day 09: Trek to Tsusang 2,980 m/9,776 ft - 06 hrs.
From Ghiling morning walk leads to steep switchbacks as route heads to a climb and then reaching across a large painted chhorten and then on straightforward route to our overnight stop at Tsusang village.
Day 10: Trek to Jomsom 2, 715 m/8,907 ft - 06 hrs.
Enjoying time at Upper Mustang and around interesting villages with super views, then our journey leads to Kagbeni on downhill trail as walk leads on the same route past Chele village to reach at Mustang Khola, from here on gradual path between towering canyons and eroded high cliffs to reach at Kagbeni after a great time on Upper Mustang.
From Kagbeni rest of the trek is much easier on gradual and downhill walks reaching around Kaligandaki river valley, from the valley floor on windswept Kaligandaki river valley to reach at Jomsom, a headquarter town of Mustang district with a small an airstrip on the shelf of Kaligandaki River.
Day 11: Fly from Jomsom to Pokhara 860 m/2, 821 ft - 25 mins.
Morning from the lodge at Jomsom, transfer to Jomsom airport for scenic short flight to land at Pokhara, one of the most beautiful city, blessed with verdant valley, high mountains and serene lakes, free afternoon with optional sightseeing tour of Pokhara on request.
Cost Includes
All needed transport By Bus.
Hotel pick up/drop by taxi.
Food (Breakfast/Lunch/Dinner) During a Trek.
Pokhara-Jomsom-Pokhara both way flights
Mountain Accommodation (Tea houses)
Excellent Guide (Food, Salary, Insurance, equipment).
All needed Mountain Trekking Permit with special restricted area permit.
Cost Excludes
Tea,coffee,beer,cola,mineral water,hot water , Wi-Fi  ,battery charges ,hot shower etc.
Your all equipment.
Your Travel insurance.
Tips.
FOR HEAD
Sun hat / Scarf
Sun glasses and Head light
FOR UPPER BODY
Water Proof Jacket
Down Jacket / Warm Jacket
Light Weight T-shirt (At least 1 pair)
FOR LOWER BODY
Water Proof Pants
Running tights
Light Weight Pant
FOR HAND
Gloves
FOR FEET
Thin Inner socks (At least 2 pairs)
Woolen socks
Trekking boots (preferred comfortable boots)
OTHER ACCESSORIES
Sleeping bag
Water bottle etc
Suncream
Water purification tablets
Toiletries (Toilet paper etc)
Warm hat
Trekking Bag Etc.