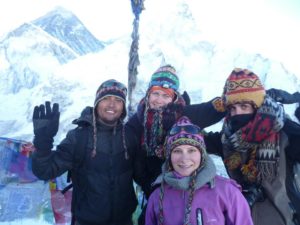 Everest Region, where adventure leads you within Nepal North Mid-East Himalaya in the country of highlanders the Sherpa of Everest.
Everest Region, enriched with colorful culture and age-old traditional life of Buddhism religion visiting its interesting villages and impressive monasteries in the shade of world highest Mt. Everest.
Everest Region covers southern areas of Solu to high scenic Khumbu valley, which falls in the same district as Solu-Khumbu. Where lower Solu areas populated by mixed tribes of people from Sherpa, Rai, Tamang, Magar, Newar and Gurung with some Hindu Brahmin, Chettries and Dalits.
An interesting part of the Himalaya, not only as highest peaks of the world where the beauty of country landscape with rolling green hills and valley is equally fascinating covered with tall rhododendron (national flower of Nepal), magnolia, oaks, firs and pine tree lines.
Around high Khumbu valley above 3,000 meters birch and juniper trees dominates as walk leads beyond Thyangboche Monastery, where tree lines and green vegetation disappears for short bushes of rhododendron (azalea) and juniper bushes with Burberry shrubs to arid barren country of arctic zone.
Everest Region a popular destination for all types of adventure from short moderate walks to challenging trekking or for peak climbing and mountaineering expeditions.
The main flow of visitors comes for trekking around Everest region from short week long walks up to Thyangboche Monastery with glimpse of Everest and other high peaks.  As most people aim for Everest base camp which is a moderate to adventurous walks with climb of high and scenic Kalapathar at 5,545 m with closest views of Mt. Everest.
For people with interest of challenging treks can join in for Three High Passes of Everest where walk leads to traverse from one end to another area and overlooking incredible scenery of mountains in complete wilderness.
Everest area and high Khumbu offers more scenic destinations like walk up to Gokyo valley enclosed within mountains which feeds the lakes of Gokyo making a marvelous picture with glacial lakes and high peaks.
Why Everest Base Camp Trekking?
It is one of the most popular and ultimate dreams of wide-world travelers to set foot at the base of world highest Mt. Everest at an altitude above 5,365 m high overlooking tremendous views of massive Khumbu Ice Falls and glaciers.
On route Everest Base Camp overnights stop in lovely Sherpa villages in the comfort of nice cozy lodge with rooms facing views of giant mountains with immense service and native hospitality.
Besides daily views of mountains on walks the culture and traditions of the Sherpa people is equally interesting with its immense colorful custom with strong similarity to Tibetan traditions of Buddhist religion.
On route encounter many prayer symbols and monuments with spinning holy bells that enchants you on walks, visiting its interesting old monasteries in calm atmosphere.
On the route base camp you will be within Sagarmatha National Park (Sagarmatha for Everest in Nepalese while Sherpa calls Chomolungma of Tibetan origin where both local names means 'Great Mother') the park added to list of World Heritage Sites in 1979.
The park covers renowned high mountains Mt. Everest (Sagarmatha / Chomolungma), Mt. Lhotse, Nuptse, Cho-Oyo, Pumori, Amadablam, Thermasarkhu, Kwangde, Khangtiaga and Gyachung Kang.
Walk leads you into impressive villages from Lukla town, Phakding-Monjo villages to famous Namche Bazaar where you can find all types of facilities required for onward journey, at Namche Bazaar full of well stocked shops, stores, restaurants, banks with ATM and post office where you can send post-card via Yak Mail till Lukla and on flights.
Namche for acclimatization at 3,440 m heights options for short scenic walks, and then heading higher above to beautiful Thyangboche Monastery surrounded by green woodland with sweeping panorama of Everest, Amadablam and other high mountains.
As walk progress leads you higher to Everest Base Camp enclosed within high peaks, Ice Falls and glaciers and then climb up to scenic Kalapathar for awesome views of peaks with Everest at mere distance.
Taking the road back to Lukla for short sweeping flight with views of Himalayan peaks as small plane land at Kathmandu after a great enjoyable and memorable trek to Everest Base Camp.
On route Everest Base Camp from where ever you start you will be in the comfort of nice local lodges on route to your destination and back.
Picturesque Gokyo Valley:
Besides Everest Base Camp trekking, the area around high Khumbu offers scenic trek to Gokyo valley, where less number of trekkers takes this interesting and quiet route.
Walk takes you from Lukla onward to Namche Bazaar and then diverting off the main Everest base camp trail. Trek heads into isolated corners to reach at scenic Gokyo valley, blessed with natural wonders of high 6th world highest Mt. Cho-Oyu that straddles the border with Nepal and Tibet.
At Gokyo with several simmering glacial lakes, the main lake known as Dudh-Kund where most of the nice lodges located just close by the 3rd lake with views of surrounding peaks that reflects on its serene lakes.
While in Gokyo hike to view-point on top Gokyo-Ri at 5,357 meter high offers glorious panorama of world's four highest mountains Everest, Lhotse, Cho-Oyu with Makalu in the east direction includes array of lesser peaks.
Grand views of Gokyo valley and its lakes way below with Ngozumba Glacier the longest within Nepal Himalaya.
From Gokyo valley with several options as per your time and duration either walk back to Lukla on the same route, or take a high trail via Renjo-la which is at the height of 5,360 m and 17,585 ft which takes to a steep climb and then downhill to Thame village, west of Namche Bazaar then walk down to Lukla.
For interested and adventurous people can carry on towards Everest base camp traversing high Tsho / Cho-La pass at 5,368 m rewards you with fabulous views of high peaks that enclose you on the walk and climb.
Eventually walk leads down and ups to Everest base camp and then taking the normal route back to Lukla for the flight to Kathmandu.
Adventure over Three Passes of Everest:
The list goes on for interested trekkers with enough time and energy to join in for adventurous and demanding walks on Three Passes of Everest. Where you can begin from both ways from Thame to Renjo-la unto Gokyo Lake and over Tsho / Cho-La to Everest base camp and then cross the last final Kongma-La at 5,535 m and then back to Lukla.
Other route for three passes of Everest is walk to Namche and then towards Dingboche, and further to Chhukung, where adventure takes you over Kongma-la to Lobuche and Everest base camp and then to Gokyo via Tsho / Cho-La with last Renjo-la to reach at Namche and Lukla via Thame.
Everest Panorama Trekking:
One of the most interesting short scenic ways to catch views of Mt. Everest is on Everest panorama treks, which is of a week duration walks Lukla to Lukla where walks leads you to famous Namche Bazaar and then to the highest point of the journey at beautiful spot Thyangboche.
An interesting moderate walks with touch of high altitude reaching at 3,867 m high at Thyangboche surrounded by chain of peaks with fabulous views of Everest, Lhotse and majestic Amadablam.
Enjoy tour of the monastery which was burnt down in 1991 and built back to its present form with support of late legendry mountaineers Sir Edmund Hillary, an interesting monastery with colorful religious painting with large prayer hall.
After a mesmerizing moments head back to Lukla on downhill with pleasant walks after a glorious week long trekking.
Classic and Original route to Everest Base Camp:
Another choice for interested trekkers for those who wants to see more of the picturesque country, this will be a good and wonderful way on classic and original route to Everest Base Camp.
Where overland journey takes you from Kathmandu to Jiri town this area is also known as Switzerland of Nepal, due to its close similarities of green valley high hills and snowcapped mountain views.
Walk leads further after ending the drive little further from Jiri heading into high hills of Solu area within Sherpa villages of Kenja-Sete and Junbesi to reach at Nunthala as walk continues higher up to Khumbu region past Kharekhola and Surkhe.
From Surkhe onwards where path from Lukla joins and then on normal busy road to Everest base camp via Namche and Thyangboche monastery.
Four Wheel Drive on route Everest Base Camp:
This is another option for trekkers where a four wheel drive from Kathmandu takes you further east to reach at Salleri town and a large village, the headquarter of Solu-Khumbu district.
From here on the quiet trail heading past farm villages mostly populated by Sherpa people, as walk leads to join a path coming from Jiri and Junbesi at Takshindo.
After Takshindo on the same trail as in Classic and original route to Everest Base Camp as walk leads high at Khumbu valley into Namche and Thyangboche Monastery to reach at base camp.
Return journey on the same trail to Salleri or take a flight from Lukla to reach at Kathmandu on short scenic 30 minutes flights.
From beautiful Rolwaling valley Tough and Challenging way to Everest Region:
An adventure crossing high 5,755 m over Tashi-Labtsa-La pass to reach at Khumbu and Everest region, after a scenic walk from beautiful Rolwaling valley.
Starting with pleasant, exciting drive from Kathmandu towards Dolkha area where journey leads past lovely Charikot town, facing view of central and eastern Himalaya with Gaurishankar and Melung-Tse peaks.
As walk begins from low sub-tropical valley of Tama Kosi River and then heading higher to cooler alpine hills to reach at Beding village within Rolwaling valley, at Beding explore remote and isolated Sherpa village.
From Beding walk leads at the end of the valley close to a glacial lake called Tsho-Rolpa at Kabuk area with views of Tsoboje 6,689 m and Dragker- Go 6,793 m.
Then climb over high and steep to reach atop Tashi-Labtsa-La and then on downhill to Khumbu of Everest area reaching at Thame village and famous Namche Bazaar.
From Namche Bazaar wither continue to Everest Base Camp or head straight to Lukla for scenic short flight back to Kathmandu.
Various ways to reach Everest Base Camp and around High Khumbu:
By Bus to Jiri and further, on exciting four wheel drive to Salleri at Solu areas or scenic short flight to and from Lukla unique airstrip.
Everest region where travelers can take various choices to reach one respective destination the most popular is taking a short scenic flight to Lukla from Kathmandu the other means is driving to Jiri and further on the old classic route to Everest.
At present a newly road has been constructed taking a four wheel drive to reach at Salleri around Solu and then walking towards high Khumbu to reach at base camp and completing with a flight back to Kathmandu from Lukla.
Season for trek to Everest Region: 
Nearly all months of the year but June to mid-September will be overcast with monsoon rains can be wet where views of peaks will be obstructed by heavy clouds.
March to May a perfect times when wild flowers are in full bloom with views of mountains on clear morning till late afternoon, the temperatures depends upon the area of trekking also.
Mid September to December another good seasons of autumn /fall and close to winter months, most of the day is clear for views and pleasant walks morning and night can be freezing cold away from sun lights and in shade.
Chances of snowing higher up above 2,800 m in autumn and December months where day will be clear with cold temperatures of -5 to -10 degree Celsius without the wind chill factor.
Everest region trekking permits: 
On this treks whatever route you choose must obtain trekking permits from TIMS (Trekking Information Management Systems) and National Park fees to be paid on designated entrance of the park.