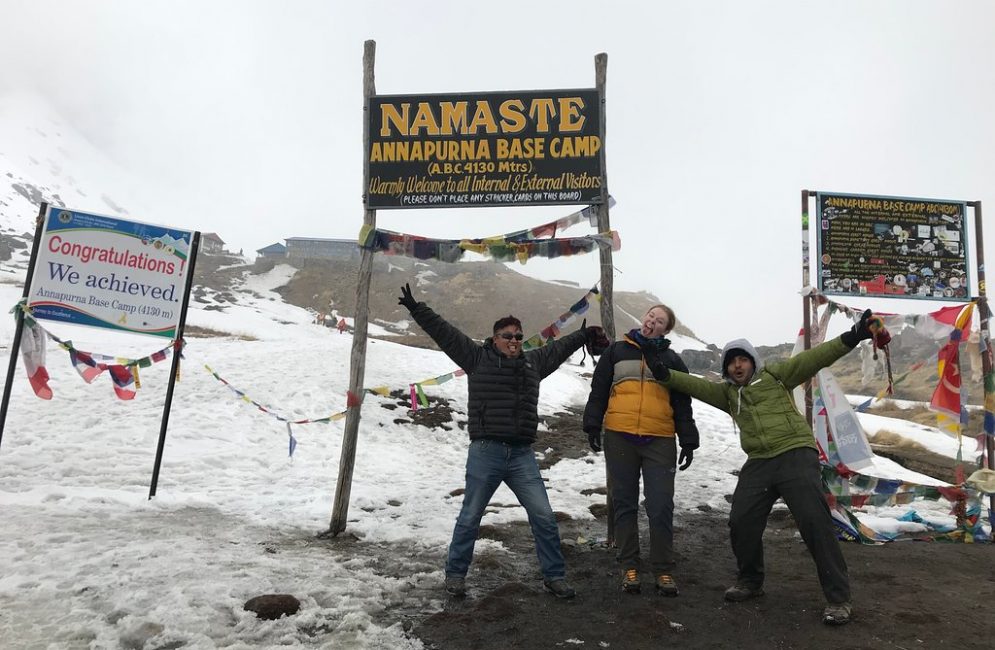 Annapurna Base Camp Trek Highlights:
Annapurna Base Camp Trek offers you a high-quality panoramic view around the mountain area of nepal  "Around Mt. Annapurna and its massive range of peaks,  in the heart of Annapurna mountains within a picturesque sanctuary, from warm sub-tropic to alpine temperature and at Arctic climate zone, amazing views of world's 3 highest Annapurna-Dhaulagiri & Manaslu visiting high hills traditional villages of legendary Gorkha tribes"
Introduction:
White Hill Adventure Treks & Expedition offers a marvelous and incredible adventure to Annapurna Base Camp trek & Sanctuary trekking, where you will be surrounded by high snow-capped peaks within picturesque sanctuary and at base camp.
Annapurna Base Camp & Sanctuary Trek offers view of Annapurna I (8,091m / 26,545ft) Annapurna South (7,219m-23,693ft), Gangapurna (7,455m-24,457ft) and Annapurna III (7,555m-24,787ft) extends to Mt. Machhapuchhre (Fish-tail).
Annapurna Base Camp & Sanctuary trekking, most popular and famous trekking region due to its easy accessibility from scenic touristic city Pokhara, trek is moderate to adventurous where all types of people can join in this wonderful adventure in the comfort of cozy lodge on route Annapurna base camp.
This fabulous trek visits traditional Gurung villages, famous as Gorkha soldiers in foreign legion of British, Indian, Singapore and Brunei as gallantry soldiers.
This remarkable trek starts and ends in the scenic valley at Pokhara city where the high snow capped peaks reflects in its serene lake Phewa.
After a great time at Annapurna Base Camp & Sanctuary journey back on the same trail to Chomrong, then we take a long descend following Modi River to Landruk and back to Pokhara, and this marvelous adventure concludes in Pokhara with safe guidance and excellent service of White Hill Adventure Treks & Expedition.
Want to go for panoramic journey to Annapurna ? You may love to trek to Annapurna Circuit.
Outline Itinerary:
Day 01: Arrive in Kathmandu and transfer o hotel.
Day 02: In Kathmandu with sightseeing tour at places of interest.
Day 03: Drive or fly to Pokhara 950m (35 mins flight & 6 hrs drive)
Day 04: Drive to Nayapul and trek to Gandruk 1,730 m – 05 hrs walks.
Day 05: Trek to Chomrong 1,951m – 06 hrs.
Day 06: Trek to Dovan 2,130m via Bamboo 2,050m – 06 hrs.
Day 07: Trek to Machhapuchhre Base Camp 3,720m – 06 hrs.
Day 08: Trek to Annapurna Base Camp 4,095m – 04 hrs.
Day 09: Trek to Bamboo – 06 hrs.
Day 10: Trek to Jhinu danda with hot spring 1,700m – 06 hours.
Day 11: Trek to Potana 1,900 m – 05 hrs.
Day 12: Trek to Kande 1,460m and drive to Pokhara.
Day 13: Drive or fly back to Kathmandu afternoon free at leisure.
Day 14: International departure homeward bound.
Day 01: Arrival in Kathmandu and transfer to hotel.
On reaching at Kathmandu international airport where White Hill Adventure Treks & Expedition staff will receive and then transfer you to respective hotels around Kathmandu city. After getting refreshed from the flight our guide briefs you with information of hotel, Kathmandu and Annapurna trekking.

Day 02: Sightseeing tour and trek preparation.
Morning our city guide will take you for sightseeing tour at places of interest as Kathmandu valley full of world heritage sites, temples, monasteries, old king's palaces after an interesting tour back to hotel, preparation for Annapurna base camp trekking.

Day 03: Drive to Pokhara 860m (220 k.m) -06 hrs.
Starting our wonderful journey to Annapurna Base Camp Trekking  with a drive on Nepal's main and interesting highway to reach at Pokhara, drive leads through many farm villages and towns with views of snowcapped peaks. Finally drive ends at Pokhara near beautiful Phewa Lake stay overnight at hotels.
Day 04: Drive to Nayapul 1,100m begin trek to Ghandruk 1,730m.
After breakfast 2 hours drive to Nayapul and Bherethati by the river, from here start walk through the nice village of Bhirethati coming across trekkers, mule and donkey trains, our route leads on ancient trail to Tibet by Trans-Himalayan Salt Trade Route, walking through farm lands and villages, waterfalls then reaching at Ghandruk village of Gurung tribe, famous as Gorkha soldiers in several foreign countries, besides being a soldiers there are traditional farmers and cattle herders of Buddhist religion. Ghandruk which is one of the largest villages around Annapurna area in the comfort of a nice cozy lodge after a day's good walk of four hours.

Day 05: Trek to Chomrong 1,951m – 06 hours.
From Ghandruk an hour walk uphill and then reaching to a ridge of Kimrong and then heading downhill through the cool forest of rhododendron and pines trees to Kimrong valley, after reaching the Kimrong valley an uphill climb for another hour from here all the way to the top of Chomrong village, a short downhill walk to the overnight stop at Chomrong village, this is the last permanent Gurung village and the gateway to Annapurna Sanctuary and Base Camp trekking.

Day 06: Trek to Dovan 2,130m via Bamboo 2,050m – 06 hours.
After Chomrong today's walk leads to a short downhill over the terraced farm fields and to the Chomrong river, after crossing the bridge an uphill for an hour to Sinuwa Danda a small spot with few lodges offering great views of the surrounding landscapes and rolling green hills, from this place walking through cool dense forest till a place called Bamboo is reached, located by the Modi River in the middle of bamboo, rhododendron and oaks forest. From here an hour walk on the gradual up trail to Dovan for overnight stop, situated in the middle of forest Modi River gorge.

Day 07: Trek to Machhapuchhre Base Camp 3,720m – 06 hrs.
From here onwards the air gets cooler and fresher entering towards the Annapurna Sanctuary and Base Camp, walk leads on the gradual winding path with gentle ups to Himalaya Hotel near the Hinko Cave, right beneath of Huinchuli peak. From here walking on the glacier and moraine in the old avalanche area, after crossing a small bridge near at Deurali the last lodge before Machhapuchhre Base Camp, from here further vegetation and tree lines disappears with only high alpine bushes and shrubs, our route climbs following the Modi river upstream, the walk gets pleasant in some places then with steep up reaching at Maccahapuchare Base Camp for overnight stay. This place with four lodges located on the bottom of Mt. Maccahapuchare North Face, from here onwards within the Annapurna Sanctuary

Day 08: Trek to Annapurna Base Camp 4,095m – 04 hours.
After a wonderful morning overlooking views of Annapurna mountain range, from here a short walk to the base camp, morning walk on the grassy uphill slopes then reaching higher almost level ground near Annapurna Base Camp, morning walk with stunning views of close Annapurna peaks that circles the sanctuary facing Annapurna I. After a good scenic walk reaching at Annapurna Base Camp a magnificent spot with about three large lodges at present, offering tremendous awesome scenery of snow capped peaks that encircles around this lovely spot at base camp, afternoon at leisure to enjoy the mountain views. Annapurna area was first explored by the British Adventure Col. James O.M. 'Jimmy' Roberts in the year 1956 and exposed to the world as the 'Sanctuary of Gods'. The Sanctuary has been christened as "Annapurna Sanctuary" ever since.

Day 09: Trek to Bamboo 2,050 m – 06 hours.
After a grand time at Annapurna Sanctuary and base camp, morning walk on the downhill path all the way to Deurali, then with few ups and downs with gradual winding trail in the serene forest and back to the tree lines to Bamboo for the overnight stay.

Day 10: Trek to Jhinu danda 1,700m via Chomrong 06 hours.
From here a short steep up to Khuldi Ghar, then on the winding downhill path. Through the dense forest to Sinuwa danda, from here walk descends to Chomrong khola. After the bridge an uphill walk for less than an hour reaching at Chomrong village for rest stop or lunch, after Chomrong with another up for half hour to the top of Chomrong ridge, then our route descends to Jhinu danda, for overnight stay, this place offers refreshing hot springs just 20 minutes walk downhill near Modi river.

Day 11: Trek to Pothana 1, 900 m – 05 hrs.
At Jhinu with a good moment, morning walk on the downhill for an hour to Modi River, then over the bridge with gradual walk and a short climb reaches to Landruk village, after brief time here continue walk on the long winding trail through terraced farm fields and villages then reaching in a small cool forested area, from here an uphill walk for 40 minutes to Deurali ridge at 2,150 m. After Deurali a nice pleasant walk through forest with grand views of Mt. Annapurna, Mt. Manaslu including the Fish Tail peak all the way to Pothana village is reached for overnight stay located in the middle of alpine forest with fantastic views of the snow capped mountains and valley.

Day 12: Trek to Kande and drive to Pokhara.
Morning with superb views leads to a short up through cool forest at Thulo Kharka also known as Australian Camp a wonderful spot in the midst of the forest with large meadows overlooking magnificent views of the Himalayan range of mountains, after a short break here the last hour walk an easy descend to Kande village on the road head that connects Baglung-Pokhara, from here an hour drive back to Pokhara after a wonderful time up in the high mountains.

Day 13: Drive / Fly back to Kathmandu.
After a marvelous time on high mountains and hills of Annapurna Himal, morning depart Pokhara after breakfast with overland drive back to Kathmandu. (Flying options 30 mins by air to Kathmandu)

Day 14: International departure for home ward bound.
After a memorable time and great adventure around Annapurna base camp & Sanctuary trekking with excellent services of White Hills Hill Adventure Treks & Expedition guides, as per the flight time our staff transfers you for the final departure homeward bound.
Cost Includes
Airport pickups and drops in private vehicle.
Dormitory rooms, Guest houses and hotels in Kathmandu and Pokhara.
Farewell dinner.
Normal permit and TIMS card.
Transportation Tourist bus and Local bus + Taxi.
Normal tea house/ accommodation during the trek.
Three times meals (Breakfast, Lunch and dinner) a day during the trek.
English speaking experienced guide
Guides cost including them Salary, insurance, equipment, food, local transportation, and accommodation.
Government taxes and services
Cost Excludes
Nepalese Visa fee.
International air ticket.
Travel insurance.
Excess baggage charges.
Trekking equipments.
Meals in Kathmandu and Pokhara
Medical fee and rescue service.
Teas, coffee, beers, cola, chocolate,
Personal expense like bar bills, laundry service, phone call, internet/cyber café, battery charges, hot shower, hot/boiled water, extra blanket, toilet paper/nappies paper, heater etc.
Tips for guide
FOR HEAD
Sun hat / Scarf
Sun glasses and Head light
FOR UPPER BODY
Water Proof Jacket
Down Jacket / Warm Jacket
Light Weight T-shirt (At least 1 pair)
FOR LOWER BODY
Water Proof Pants
Running tights
Light Weight Pant
FOR HAND
Gloves
FOR FEET
Thin Inner socks (At least 2 pairs)
Woolen socks
Trekking boots (preferred comfortable boots)
OTHER ACCESSORIES
Sleeping bag
Water bottle etc
Suncream
Water purification tablets
Toiletries (Toilet paper etc)
Warm hat
Trekking Bag Etc.