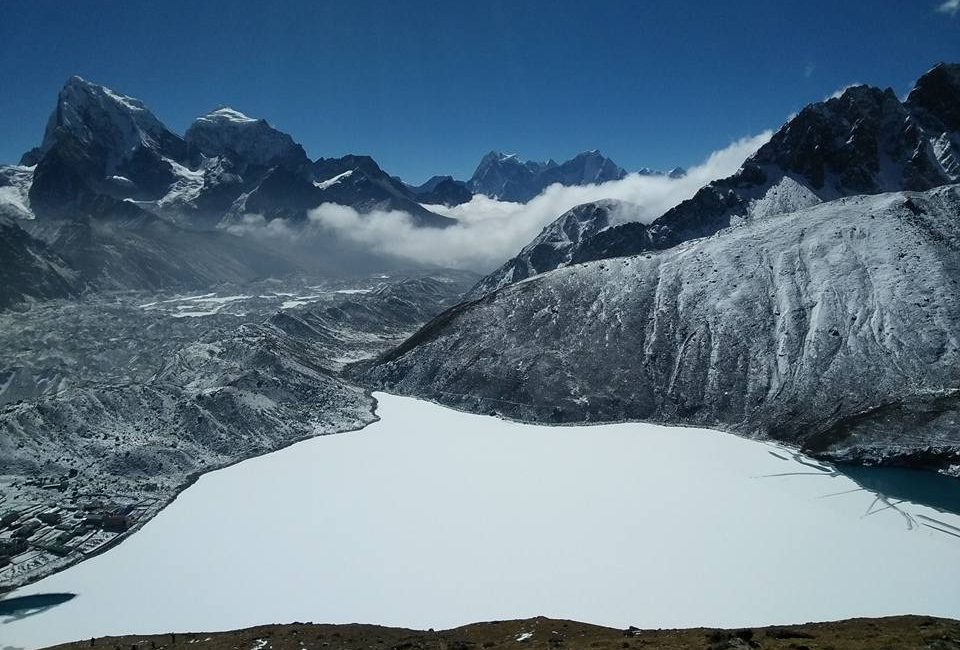 Gokyo Ri – Gokyo Lakes Trek -11 days an enjoyable walk within hidden areas of Khumbu high valley, where it reaches you into the magnificent scenic destination at Gokyo valley within its simmering emerald colored lakes.
Gokyo Ri-Gokyo Lakes Trek of 11 days duration, enough time to immerse within world highest mountain views and in the harmony of local Khumbu Sherpa, the Highlanders of Everest.
Adventure with the taste of culture, where walk leads you around native Sherpa villages of great interest to witness its ancient heritage of Buddhism religion, a famous mountain people for its lively custom and hospitality.
Our wonderful adventure to Gokyo Ri – Gokyo Lake Trek -11 days starts, taking a scenic short flight to reach at Sherpa town in Lukla which is the gateway of many various trekking destinations around high Khumbu valley.
Walking through nice cultural farm villages of Phakding – Monjo to reach into Sagarmatha National Park one of the world highest parks as well listed in world heritage sites.
From here walking into river valley and gorge within the alpine forest of tall rhododendron-magnolia-oaks-blue pines and fir trees, where the climb begins on leaving the valley floor to reach famed Namche Bazaar.
A great place situated with an amphitheater of houses serving lodge and hotels, where rest day at Namche is worth-while to get acclimatize and to observe the local culture of great interest.
After Namche on the quiet peaceful route to reach the hidden valley of Gokyo enclosed with an array of peaks with serene glacial lakes, a great beautiful spot within the picturesque location with amazing scenery.
At Gokyo Lakes Trek enjoy climb up to Gokyo Ri which will be the highest point of the adventure at above 5,483m/19,083ft offers sweeping panorama of world four highest mountains beside Everest view of Cho-Oyu, Lhotse and Makalu.
Enjoying awesome moments then head back on the same trail allowing to see more of this wonderful country as walk leads to Namche and then at Lukla for last overnight within Everest region, where early morning short flight takes you back at Kathmandu, after a great exciting walks and experience on Gokyo Ri – Gokyo Lake Trek -11 days.
If you want to experience the close view of Everest Base Camp, you may like to choose  Everest  Three High Passes Trek or Everest Base Camp Trek.
Outline Itinerary For Gokyo Ri Trek
Day 01: Kathmandu (Tribhuvan Int´l Airport) to Lukla (Tenzing Hillary Airport) early morning 30 minutes scenic flight then Trek to Phakding (2,612 meter/8570 feet) – 3/4 hours.
Day 02: Trek to Namche Bazzar (3,440 meter/11,287 feet) via Sagarmatha Natinal park check post- 6/7 hours.
Day 03: Acclimatization (rest) day in Namche Bazzar.
Day 04: Trek to Phorse Village (3,810 meters/12,497 feet)-5/6 hours.
Day 05: Trek to Machherma (4470 meters/14,663 feet)-5/6 hours.
Day 06: Trek to Gokyo Valley (4,800 metera/ 15744 feet)-5/6 hours.
Day 07: Climb to Gokyo Ri (5,357 meters/17,570 feet) and visit lakes-6/7 hours.
Day 08: Trek down to Dole (4,200 meters/13,779 feet)5/6 hours.
Day 09: Trek down to Namche Bazzar (3,440 meter/11,287 feet) 5/6 hours.
Day 10: Trek Down to Lukla (2,860meter/ 9,383 feet)-6/7 hours.
Day 11: Lukla (Tenzing hilliarry Airport) to Kathmandu (Tribhuvan Int´l Airport) fly back.
Day 01: Fly from Kathmandu to Kathmandu to Lukla at Tenzing-Hillary Airport early morning 30 minutes scenic flight then and trek to Phakding 2,612 m / 8,570 f - -04 hrs.
Early morning our guide and staff will pick you from your hotel for short drive to Kathmandu domestic airport, after security formalities board in a small aircraft (Dornier / Twin Otter or similar plane) where scenic flight with views of Himalayan range of mountains includes Everest, then landing in Lukla at Tenzing-Hillary airport. From here after a short refreshing morning break continue walk on gradual easy trail with down-hill and gradual path with few short ups to reach at first overnight stop in Phakding village, a nice Sherpa village situated above near Dudh-Kosi River.

Day 02: Trek to Namche Bazaar 3,440 m / 11,287 ft via Sagarmatha National Park check post - 06 hrs.
A slow an easy morning walks towards Sagarmatha National Park entrance gate, with time here crossing bridge to reach at Jorsalle the last village before Namche Bazaar with possible lunch stop, afternoon walk on river bed within forested area with climb to last and high bridge that reaches you at famous and colorful Namche Bazaar after walking strenuous uphill on winding trail facing views of peaks. At Namche transfer into nice and cozy lodge, with time to wander around the shops and streets of interesting Namche Bazaar, the hub and main town or large village of Khumbu area where colorful and busy Saturday market held once a week.

Day 03: Acclimatization and Rest day in Namche Bazaar.
Rest day in Namche for acclimatization before heading higher areas, where short walks takes you up at view point and towards Everest View Hotel of near four hours walks both ways, rewards you with excellent panorama of mountains with Everest and magnificent Amadablam, at Namche visit interesting museum with much information of Khumbu Sherpa, culture, flora-fauna as well of mountaineering expedition history with rest of the afternoon at leisure.

Day 04: Trek to Phorse Village 3,810 m /12,497 ft- 06 hrs.
Morning after a good rest at Namche heading towards top of Namche ridge, where walk leads on gradual wide trail facing views of Everest and other range of peaks, on reaching past Kyajinma near Sanasa village then on uphill steep climb for an hour to reach atop Mong Hill. Grand views of snow capped peaks from Mong and then downhill for an hour into cool shade of forest to reach at Phorse village for overnight by the sound of Dudh Kosi River.

Day 05: Trek to Machhermo 4,470 m /14,663 ft -06 hrs.
After Phorse with quiet overnight stop, walk along river gorge and then reaching a small place at Dole, from here tree lines disappears for few bushed of rhododendron and juniper bushes, as walk leads to a short steep climb and then on level path for an hour to Lhabarma Kharka at 4,325 m and to Luza at 4,390m; then walk around ridge line with first glimpse of Machherma, located below a small valley, finally reaching at Machherma for overnight stop.

Day 06: Trek to Gokyo Valley 4,800 m / 15,744 ft - 04 hrs.
Morning walk leads to Gokyo Valley and into its serene lakes following on scenic trail to Pangka 4,545m, then climbing a rocky path into ablation valley passing the first lake and second lake, then reaching third lake called Dudh Pokhari or Gokyo Lake. At the bank of the Lake where summer settlement located of Gokyo at 4,790 meters, after lunch a short walk of the lake with view of Mt. Cho Oyo world's 06th highest, and Gyachung Kang with reflection on emerald Gokyo Lake.

Day 07: Climb to Goyko RI 5,483m/19,083ft afternoon at leisure and rest.
Morning hike to Gokyo Ri at 5,357m the highlight of this journey the top offers awesome panorama of world's highest mountains Mt. Cho Oyo, Gyachung Kang, Mt. Everest, Mt. Lhotse, Cholatse, Taweche and to the east views of Mt. Makalu. After a great exciting moment descend to Gokyo for lunch with rest of the afternoon free to enjoy surrounding beautiful sceneries.

Day 08: Trek to Dole 4,200 m / 13,779 ft - 06 hrs.
After a marvelous and panoramic time with great moments where walk leads to long downhill with some ups to reach at Dole place with number of good lodges for overnight stay. On reaching Dole back into green vegetation and tree line with time around to explore within this nice quiet area within a river gorge.

Day 09:  Trek to Namche Bazaar - 06 hrs. From Dole an easy walk downhill to Phorse village by the bank of Dudh Kosi River as walk leads to a steep climb up to Mong ridge, a place with few shops and houses offering grand views of peaks. After a brief stop then descend to near Sanasa village where walk leads you back at Namche Bazaar for last night in Khumbu before Lukla.

Day 10:  Trek to Lukla 2,860 m / 9,383 ft - 06 hrs.
Our last final day of the adventure with long day treks to reach Lukla starting with  descend to reach a river valley and at Sagarmatha National Park entrance and exit to Monjo village, where walk continues past Phakding with last short climb to reach at last overnight stay in Lukla before flying back to Kathmandu.

Day 11: From Lukla fly to Kathmandu end of our service with transfer to your hotel.
As per flight time for Kathmandu, morning with last breakfast within Khumbu and at Lukla, then transfer to air terminal named after Tenzing and Hillary, first to conquer Mt. Everest in 1953. As per flight schedule board in a smaller aircraft for sweeping short air journey to reach Kathmandu airport and then transfer back to your respective hotels.
Cost Includes
Domestic airport pickups and drops.
Both way flight tickets.
All meals (B/L/D) while trekking as indicated by the itinerary.
All mountain Tea house/Accommodation (Sharing basis room).
Sagarmatha National park fee and Local permit.
English speaking, trained and experienced trekking Guide.
All insurance for guide(s) and porter(s).
Guide (s) and Porter(s) costs including their salary, equipment, transportation, food and teahouse.
Welcome or farewell dinner.
Free International Airport drops or pickups.
All Government and Local taxes.
Cost Excludes
Trekking Equipment.
Excess Baggage Charges.
Medical and Rescue Insurance.
Hot and cold Drinks.
Personal Expenses (Laundry Service, Phone Calls, Battery Charge, Bar bills, Hot Shower Boiled water et)
Porter ($20 usd per day).
Tips for guide(s), Porter (s)
FOR HEAD
Sun hat / Scarf
Sun glasses and Head light
FOR UPPER BODY
Water Proof Jacket
Down Jacket / Warm Jacket
Light Weight T-shirt (At least 1 pair)
FOR LOWER BODY
Water Proof Pants
Running tights
Light Weight Pant
FOR HAND
Gloves
FOR FEET
Thin Inner socks (At least 2 pairs)
Woolen socks
Trekking boots (preferred comfortable boots)
OTHER ACCESSORIES
Sleeping bag
Water bottle etc
Suncream
Water purification tablets
Toiletries (Toilet paper etc)
Warm hat
Trekking Bag Etc.