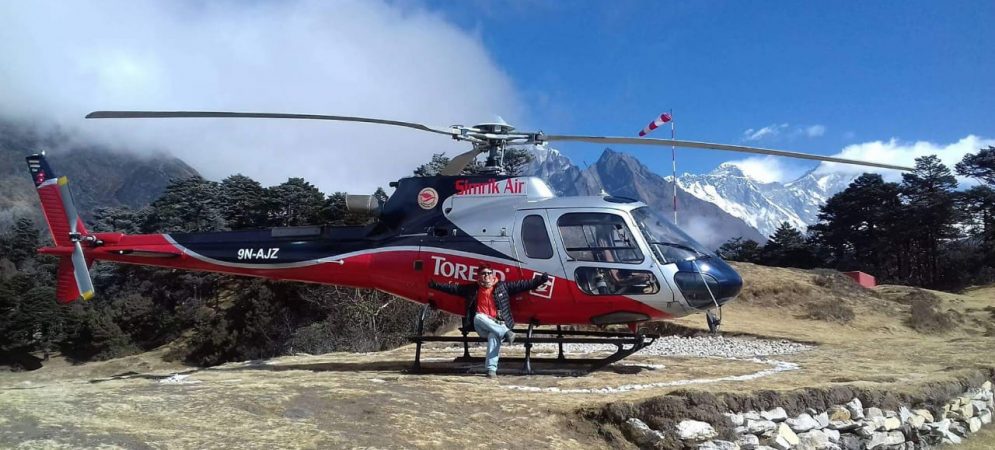 Everest Heli Tour of five hours will be a great experience facing mighty Himalayan peaks in front of you with towering Mt. Everest a pleasant ride of a day.
A flight of great delights and thrills where you will be in the midst of world highest mountains in the comfort of spacious seated on a Helicopter that takes your dreams come true being close to number one mountain on this planet.
Starting Everest Heli Tour -5 hours for early morning flight depart from the hotel to reach at Kathmandu domestic airport an hour earlier before the great flight to Everest.
Where you will be seated on the back of the pilot, sometimes the Heli having two pilots a co-pilots, as our journey gets higher facing tremendous scenery of Kathmandu city and its rolling green hills and snow capped peaks that surrounds Kathmandu.
Helicopter leads high above valley and hill to land at Lukla airport and its small airstrip with time here to get refreshed where Helicopter will add fuels for further journey, sometime depending upon the weather and wind current, will take only three person at one time and ferry again to take another people for the ride.
From Lukla heading above Dudh Kosi River gorge and valley past famous Namche Bazaar (time permitting land on top Namche) a main village of Khumbu area, as flight leads over scenic Tengboche Monastery surrounded with green woodland.
Everest Heli Tour five hours of maximum duration allows you to soak into dramatic landscapes of green high hills and verdant valleys dotted with farm villages with snow capped mountain backdrops.
As air-journey continues reaching at arid and mountainous terrain to land above Gorakshep a small settlement with few lodges (Gorakshep an early original Everest Base Camp till 1970's), where chopper lands on the mid-way of Kalapathar hill for 30 minutes as weather allows at the height of 5,300 m facing complete views of Everest and adjoining peaks.
Everest Base Camp which is at short distance from this point, where Everest view is not visible being close at the bottom of the mountain as well too rough for Helicopter to land on rocks and moraine with ice and glaciers.
The only close place for Helicopter to land nearest from Everest Base Camp is at above Gorakshep and on the midst of Kalapathar where you can have awesome views of whole Khumbu range of peaks with Everest at mere distance.
Everest Heli Tour of 5 hours not only for its fantastic views but leads you to witness immense culture of local Sherpa people the highlanders of Everest and early pioneers as mountain guides.
After a great exiting experience as per pilots decision with time and weather conditions with short stops at scenic and cultural spots at Tengboche to visit its impressive Buddhist monastery with views of Everest and wide range of mountains.
From here as time permits a short stop at Namche Bazaar and then head back to Lukla for onwards air journey and flight to Kathmandu after a great adventure and experience on Everest Heli Tour of five hours with delightful and superb moments.
Helicopters that operates:
Two types of helicopters operating at present in private sectors:
AS 350 B series of helicopters which are manufactured by Euro copter, France and are very popular all over the world. It is regarded as one of the most versatile helicopters and is suitable for mountain flying and all types of helicopter missions.
Following features of Helicopter:
Fail Safe Design
Comfortable Seating Arrangements
6 seats excluding Pilot
Suitable for all types of helicopter missions and can fly up to an altitude of above 5,500 m and 18,000 feet high.
Other helicopter is powerful Russian made MI-17. a big bird, capable of transporting 22 passengers or four tons of cargo. MI-17's can reach altitudes well in excess of 5.000 m and have been known to land at Everest Base Camp. They offer excellent utility and reliability under extreme conditions. These helicopters are usually charter for bigger groups or large cargo.
Besides Everest l Heli Tour we run and organize Rescue Evacuation operation around Nepal Himalaya as well for ferrying cargo for expeditions and relief operation as well pilgrimage Heli Tour to Damodarkund-Muktinath and to Gosainkund and much more.
Cost Includes
Airport pick up and drop
Airport boarding pass
Breakfast in Everest View Point Hotel
Cost Excludes