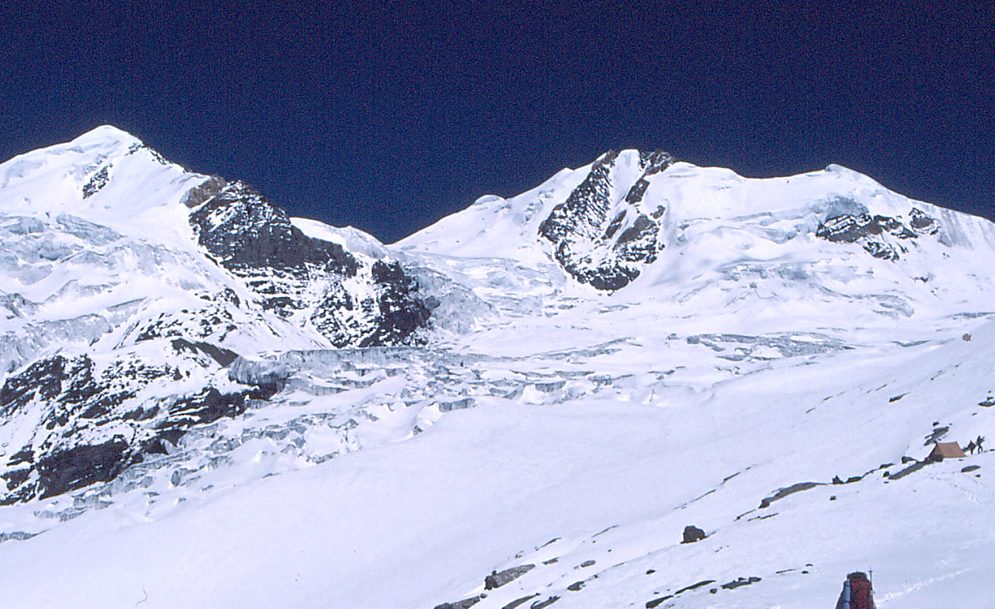 Chulu East Peak Climbing Highlights:
'A marvelous adventure around world-famous destinations Annapurna circuit with Chulu East Peak Climbing, leading picturesque landscapes of high Manang valley with stunning views of mountains, an adventure with climb and trek over Thorang-la Pass with grand vista of Annapurna, Dhaulagiri to Manaslu, exploring traditional villages and monastery with lovely rhododendron, magnolia, pines and oak tree forest"
Chulu East Peak Climbing Introduction:
A classic and wonderful adventure around world-famous destination around Annapurna circuit trekking with classic Chulu East Peak Climbing with amazing views of Annapurna and Damodar Himalaya range of mountains and exploring villages and monasteries of immense Buddhist culture and religion.
Chulu East peak located around Nepal North Mid /West within high Annapurna northern Himalaya and close to Damodar Himal range. Chulu a massive range of peaks includes Chulu West / East and the Far East including Chulu Middle peak.
Starting this wonderful Chulu East Peak Climbing with the drive to mid hills, and then drive trekking from lovely villages of Dharapani to Chame town the headquarter of Manang district.
The walk continues leading to Pisang and Manang of strong Tibetan Buddhist culture and way of daily life enclosed within the windswept valley and amazing views of Pisang, Chulu, Gangapurna with Annapurna II, III and IV peaks.
From Pisang heading higher for the classic climb, after leaving main trekking trail for few days towards isolated and wilderness area, the climb is undertaken after much acclimatization and preparations.
Chulu East Peak at 6,584 meters listed as highest trekking peaks of Nepal Himalaya, a climb is not technically challenging but requires being physically and mentally fit to accomplish this wonderful adventure with climbing grade as PD+ means Peu Difficile / some technical difficulties and walking on glaciers, grading taken from Swiss / French Alpine Climbing System.
After a successful climb with the strong support of White Hill, Adventure expert guides another adventure leads you to cross over Thorang-La pass at 5,416 m / 17,700 ft high with splendid views of mountains of Dhaulagiri range, and then downhill to holy Muktinath and Kali-Gandaki valley around world deepest gorge located between giant Annapurna and Dhaulagiri mountains.
Concluding this wonderful adventure Chulu East Peak trek and climb at Jomsom headquarter town of Mustang area, after Jomsom short flight to scenic Pokhara where Annapurna Himal reflects on pristine Phewa Lake.
Island Peak Climbing and Lobuche Peak Climbing can be the alternatives of Chulu East Peak Climbing as the both mountain peaks' altitude are similar to the Chulu Peak.
Outline Itinerary:
Day 01:   Arrival in Kathmandu and transfer to hotel
Day 02:   In Kathmandu with sightseeing tour at places of interest.
Day 03:   Drive to Dharapani 1,920 m via Beshishar 800 m – 08 hrs.
Day 04:   Trek to Chame 2,670 m – 05 hours.
Day 05:   Trek to Pisang 3, 230 m – 05 hrs.
Day 06:   Trek to Julu 3,900m – 06 hrs.
Day 07:   At Julu for acclimatization.
Day 08:   Trek to Chulu High Camp at 5,300m.
Day 09:   Rest day at High Camp preparation and for acclimatization
Day 10:    Climb of Chulu East and return to base camp.
Day 11:     Reserve day in case of unfavorable bad weather condition.
Day 12:   Trek to Manang 3,350m – 04 hrs.
Day 13:   Trek to Yak Kharka 4,110 m – 04 hrs.
Day 14:   Trek to Thorong High Camp 4,600 m – 04 hrs.
Day 15:   Cross Thorong-La 5,416 m and to Muktinath 3,800 m – 07 hrs.
Day 16:   Trek to Jomsom 2, 715 m – 04 hours.
Day 17:   Fly from Jomsom to Pokhara 860 m – 25 mins flight.
Day 18:   Drive or fly back to Kathmandu afternoon free at leisure.
Day 19:   International departure homeward bound.
Day 01: Arrival in Kathmandu and transfer to hotel.
On reaching at Kathmandu international airport where White Hill Adventure Treks & Expedition staff will receive and then transfer you to respective hotels around Kathmandu city. After getting refreshed from the flight our guide brief you with information of hotel, Kathmandu and Chulu East Peak Trek & climb around Annapurna.

Day 02: Sightseeing tour and trek preparation.
Morning our city guide meet for sightseeing tour at places of interest as Kathmandu valley full of world heritage sites, temples, monasteries, old king's palaces after an interesting tour back to hotel, preparation for Culu East Peak climb and trek around Annapurna.

Day 03: Drive to Dharapani 1,920 m via Jagat 1,290 m and Beshisar 800 m – 08 hrs.
Morning with interesting and scenic long drive towards Nepal mid west, journey leads to Beshisar town then on the dirt road to Khudi, Bhulbhule and Ngadi following the Marsyangdi River upstream, drive continues through rice terraces fields and villages to Syange, from here with a slow climb to Jagat village, a farm village with many lodges for trekkers. From Jagat village drive leads for another hour to reach at Dharapani village for overnight stop, Dharapani a nice village situated on the junction of Annapurna circuit and Manaslu trekking trail.  

Day 04: Trek to Chame 2,670 m – 05 hours.
Starting first day walk from Dharapani along winding trail into rhododendron and pine forest passing villages of Bagachap and Danque to Timang village from here onwards into more Buddhist culture, with views of Mt. Manaslu 8,163m / 26,781ft, from Timang village few hours trek to Koto and then to Chame town for overnight stop. Chame a major and headquarter town of Manang area.

Day 05: Trek to Pisang 3, 230 m – 05 hrs.
From here air gets cooler as walk leads close to mountains through alpine forests of rhododendron and pine trees, following Marshyangdi River upstream with few ups and down hills to Bhratang village. From Bhratang village walk uphill through woodland to Dhukure Pokhari, a small place with teahouses and lodge with views of Chulu and Pisang peak, after lunch descend to lower Pisang village for overnight stop.

Day 06: Trek to Julu 3,900 m – 06 hrs.
From Pisang village, leaving the main Annapurna circuit route behind and trekking with a steep climb above Marshyangdi River, along the way impressive views of landscapes with range of snow peaks, walk continues on the higher trail above Nagawa village, and then route leads towards North West into arid dry terrain to reach at Jhulu small village for the first camping of this trip.

Day 07: At Julu for acclimatization.
A necessary rest day at Julu village for proper acclimatization and preparation for the adventurous climb of Chulu East peak, here one can take a hike around and explore Julu traditional village with grand scenery of close fantastic mountains views with the Chulu's peaks.

Day 08: Trek to Chulu Base Camp at 5,300m.
After a refreshing time at Julu, morning leads to perfect wilderness region of arid and dry terrain with great views of Chulu's and Annapurna range of mountains, and then a climb with few gradual area on route, this picturesque valley runs high towards the ridge of Chulu East and Far East Peaks, after a strenuous high altitude walk reaching a rocky moraines beneath the ridge to camp for overnight, this perfect spot will be the base camp and starting point to Chulu East Peak climb.
Day 09: Rest day at Base Camp.
Another necessary acclimatization day and to check the climbing equipment for the climb of Chulu East Peak
Day 10:  Climb of Chulu East Peak and descend to Base Camp.
The highlight and aim of this great adventure starting very early before dawn and then climbing on snow slopes, can be quite steep with technical section in few sections to reach the summit of Chulu East; our guide will set the route and fixing ropes in necessary area for this great climb to the summit top, after the final ascend to the top of the summit with great spirit and feeling high, marvel the surrounding overwhelming views and descend back to base camp.

Day 11: Reserve day in case of unfavorable weather condition
We have reserved an extra day which will be as contingency in case of unfavorable weather conditions sometimes weather can be unpredictable, so an extra day on this type of adventure is very necessary, if all goes well can be used on the way back to Jomsom with short day walk enjoying the great scenery along the way.

Day 12: Trek to Manang 3,450 m – 06 hrs.
After a successful climb of Pisang Peak retrace the journey back to Pisang village then walk along the bank of Marshyangdi River passing Humde village with a small airstrip. The environment around this area with arid and barren landscapes with cold, dry climate, walk along the bank of Marshyangdi River passing several village like Humde and Braga to reach the upper Manang village. After few hours of good walk reaching at Manang a large prosperous village, houses are built up in traditional Tibetans style with rich culture and traditional lifestyle.

Day 13:  Trek to Yak Kharka 4,110 m – 04 hours.
After a good time at Manang, morning adventure leads towards Ghunsang village on the uphill path to Yak Kharka, an interesting high altitude walk with super scenery of the snow capped mountains, then crossing the river to reach Yak Kharka a small settlement, offering tremendous views of Gangapurna, Annapurna III and Chulu Peaks.

Day 14: Trek to Thorong High Camp 4,600 m – 04 hrs.
As the walk progress and getting closer to the base of Thorang-la on the trail beyond a small place at Ledar, then crossing a bridge walk heads to a climb along the river bank of Jarjung, leading up on the narrow path to cross a steep rocky slope and finally reaching at Thorung Phedi, an hour steep climb to the overnight stop at Thorang High Camp, staying here to make it easier for the next day climb over Thorang pass.

Day 15: Cross Thorong-La 5,416 m and to Muktinath 3,800 m – 07 hrs.
Today the highlight of this great journey after early breakfast set for the long climb to Thorang-la with a steep ascend all the way to Thorung La Pass top at 5,416 m / 17,700 ft, the highest altitude gain of this memorable adventure this certainly requires a high spirit and physically strong mind to cross over it. The top offers mind blowing scenery of beautiful landscapes and snow capped peaks, from here the walk leads to a long descend to Muktinath at 3,800 m. on reaching Muktinath for the overnight stop, this is a sacred and holy place for both Hindus and Buddhists the word Muktinath literally means 'the place for Nirvana or Liberation'.

Day 16: Trek to Jomsom 2, 715 m – 04 hours.
After Muktinath rest of the journey will be easier with moderate walks all the way to Jomsom as the walk drops to 1,200m downhill to Kaligandaki river valley, this pleasant trail reaching the vast Kaligandaki river valley with a small break at Ekale bhatti. From here onwards gets windy in the afternoon time, from this place few hours walk to Jomsom, headquarter of Mustang region with an airstrip located above Kaligandaki River. Here at Jomsom with last night in the mountain village, celebrate with the local apple products like cider, brandy and juice this area from Kagbeni to Marpha & Larjung famous for delicious apple and its product.

Day 17: Fly from Jomsom to Pokhara 860 m – 20 mins flight.
Early morning transfer to Jomsom airport for sweeping short flight of 25 minutes to Pokhara, during airborne spectacular views of Dhaulagiri, Nilgiris and Annapurna range of mountains with rolling hills dotted with farm villages, On reaching Pokhara airport transfer to respective hotels by the serene lake Phewa, afternoon free for individual activities or just relax and enjoy the views of the Annapurna Himalaya.

Day 18: Drive or fly back to Kathmandu.
From Pokhara drive to Kathmandu, after a wonderful trip to Chulu East Peak Trek & Climb, on reaching Kathmandu transfer to your hotels. (by air options from Pokhara 30 minutes of scenic flight to Kathmandu)

Day 19: International departure for home ward bound. After a memorable and great adventure in Nepal with Chulu East Peak Trek & Climb with great services of White Hills Hill Adventure Treks & Expedition guides, our staff transfers you for final departure homeward bound flights.
Cost Includes
All meals(B/L/D) while trekking/climbing as indicated by the itinerary.
All mountain Tea house / Accommodation(Sharing basis tents or guest house).
ACAP Permit and TIMS card
English speaking, trained and experienced trekking and climbing Sherpa Guide.
Porter Service (Two trekkers=one porter).
All insurance for guide(s) and porter(s).
Guide (s) and Porter(s) costs including their salary, equipment, transportation, food and teahouse.
Peak Climbing Permit and Garbage deposit.
North face quality tents and good kitchen equipment.
Group Climbing equipment (like ropes, Ice-Screw, snow bar….).
Welcome or farewell dinner.
Free International Airport drops and pickups.
All Government and Local taxes.
Cost Excludes
Personal Climbing and trekking gears (equipment).
Duffel/trekking bags.
Medical and Rescue Insurance.
Hot and cold Drinks.
All foods and beverages other than on the itinerary.
Personal Expenses (Laundry Service, Phone Calls, Battery Charge, Bar bills, Hot Shower Boiled water etc.)
Tips for guide(s) and Porter (s)
For Head
Sun hat / Scar
Sun glasses and Head light
For Upper Body
Water Proof Jacket
Down Jacket / Warm Jacket
Light Weight T-shirt (At least 1 pair)
 For Lower body
Water Proof Pants
Running tights
Light Weight Pant
For hand
Gloves
For  Feet
Thin Inner socks (At least 2 pairs)
Woolen socks
Trekking boots (preferred comfortable boots)
Other accessories
Sleeping bag
Water bottle etc
Suncream
Water purification tablets
Toiletries (Toilet paper etc)
Warm hat
Trekking Bag Etc.
Other Climbing Equipment
Harness
Zummer
Crampons
Ice axe
Plastic boot
Carabineers
Helmet etc.