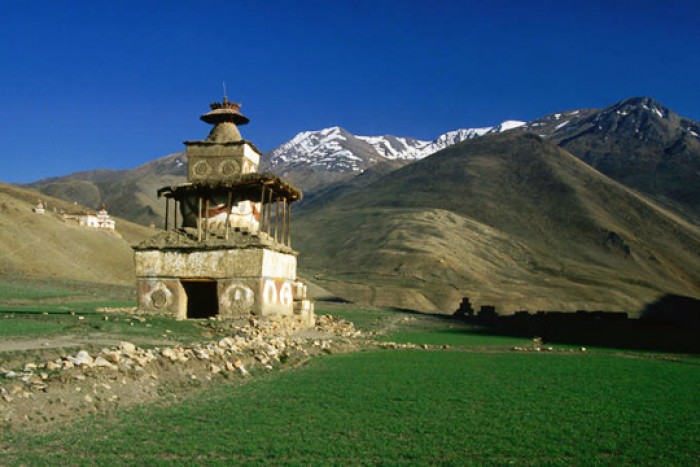 Lower Dolpo Trekking by Overland allows you to witness more of Nepal from Central to Far South West to the remote northern region of the country and then taking a short flight to and from Dolpo to Nepalgunj city, with the overland journey towards Kathmandu.
Lower Dolpo Trekking by overland takes you to Nepal Far South West within warmer sub-tropical areas close to UP border of India ( Utter Pradesh Indian state), and then taking a short scenic flight to land to reach our adventurous destination at Jhupal within inner and lower Dolpo.
The walk begins heading to the nice town of Dunai, headquarter town of Dolpo region one of the remote Himalayan destinations of the country, where the route leads on Old Trans Himalayan Salt and Caravan Trail of Nepal and Tibet, where Tarakot village was a stronghold of the trading post.
As the adventure continues heading into many interesting farm villages to enter into a wide scenic valley of Dho-Tarap and then heading towards Tibetan style villages enriched with Buddhist and ancient Bon cultures of pre-Buddhism where the cult Bon, which is fading in other parts of Nepal but still exists in this wonderful Dolpo area.
Where journey follows several interesting farm villages and within Yak country to cross over a scenic high pass at Numa-La to reach our main target of the adventure at Phoksundo Lake, a beautiful turquoise colored lake close to nice Ringmo village.
After an enjoyable and pleasant time within Phoksundo Lake in the backdrop of wonderful scenery of snow-capped mountains, high hills and beautiful coniferous forest, then walk back to Jhupal taking an alternative scenic route for sweeping flight to Nepalgunj city, and then driving back to Kathmandu with marvelous and exciting experience on Lower Dolpo Trekking by Overland. The interested people can also complete the upper Dolpo trekking by increasing the itinerary
Outline Itinerary
Day 01:Drive from Kathmandu (1350/4428ft) to Nepalgunj (150m/492ft). 10 Hours
Day 02:Fly from Nepalgunj to Jhuphal (2475m/8118ft) after Trek to Dunai (2140m/8003ft). 4/5hrs
Day 03: Trek to Tarakot (2540m/8331ft).5/6hrs
Day 04:Trek to Lamachaur (3600m/11808ft).5/6hrs
Day 05:Trek to Toltol(3523m/11555ft)5/6hrs
Day 06:Trek to DhoTarap (3944m/12936ft).6/7hrs
Day 07:Explore day at DhoTarap.
Day 08:Trek to Numala Base Camp (4440m/14563ft).5/6hrs
Day 09:Trek to Gyambo(4250m/13940ft) via Numa-la pass(5238m/17180ft).6/7hrs
Day 10:Trek to Temche  (3995M/13103ft).5/6hrs
Day 11:Trek to RingmoGaun (3641m/11942ft).5/6hrs
Day 12: Trek to Phoksundolake(3600m/11808ft). 2hrs
Day 13: Trek to Chhepka(2678m/47514ft).5/6hrs
Day 14:Trek to Jhuphal (2475m/8118ft).5/6hrs
Day 15:Fly from Jhuphal to Nepalgunj (150m/492ft) and Afternoon Drive back to Kathmandu.
Day 01: Drive from Kathmandu1,350 m/ 4,428 ft to Nepalgunj 150m /492 ft and transfer to hotel after Ten hours duration overland.
After preparation for Lower Dolpo Trekking, taking a long overland journey from Kathmandu to reach Far South West Nepal at Nepalgunj city, a warm semi-tropical climate area close to Indian border, where drive leads into mid-hills and through dense forest past Chitwan, Nawalparasi to reach a city of Butwal.
From here few hour drives reaches you on the flatland known as Terai belt with warmer climatic country to reach at Nepalgunj and then transfer to a nice hotel within the city area.
Day 02:   Fly from Nepalgunj to Jhuphal 2,475 m/ 8,118 ft and trek to Dunai 2,140 m/ 8,003 ft - 04/5 hrs.
Early breakfast for short flight to land at Jhupal at Dolpo, the flight offer grand views of Western Himalayan peaks with Api and Shaipal Himal then touching the ground at Jhupal airport after 40 mins on air.
From walk starts to reach in Dunai, a major and headquarter town of Dolpa district.
Day 03: Trek to Tarakot 2540 m/ 8,331 ft -05/6 hrs.
Morning walk begins heading through Dunai town on leaving the main areas walking into rural farm areas and quaint villages as well into forested area, as walk follows a river to reach at Tarakot for overnight halt, one of the large and historical village with its nice terraced farm fields, Tarakot stands as an old historical fortress (Dzong or Kot) in earlier days guarded the village for outside invaders. 
Tarakot village houses famous old Sandul Gomba located at junction of Barbung Khola and Tarap Chu River.
Day 04: Trek to Lamachaur 3,600m/11, 808 ft -05/6hrs.
From Tarakot morning walks takes you around beautiful valley of Dho-Tarap, as our route advance taking the ancient Trans-Himalayan Caravan trail of Nepal and Tibet, then reaching on the junction of River Tarap Chu and Lang Khola, for overnight stop within a small village and nice grazing field for Yaks and other domesticated animals.
Day 05: Trek to Toltol 3,523m/11,555 ft -05/6hrs.
After a pleasant overnight stop in rural areas of Lamachaur around large meadow where walk lead at the very end of the valley to enter a narrow gorge as vegetation changes for short bushes of juniper and wild roses, then to Toltol where you witness a large interesting overhanging cave, a great spot with chance to observe some wild life like Naur or Blue Sheep and other wild animals.
Day 06: Trek to DhoTarap 3,944m/12,936 ft -06/7hrs.
Walk continuous with gentle long climb towards inner Tarap valley, one of the longest valleys within Dolpo an area of approx: 20 k.m. that extend towards Tarap Chu River and within close to Thuli Bheri River near Tarakot village, where walk leads past Yak herder's temporary camps to reach our overnight stop at Ghymagar village within Dho Tarap valley.
Day 07: Explore day at DhoTarap.
Enjoying marvelous long walks for several days where Dho Tarap a perfect place for rest day as well to support with acclimatization and exploring around scenic country within scenic Dho-Tarap, where you will soak into colorful culture of Dolpo with mix tribes Magar a hill people of Nepal Himalaya found around throughout the country.
Day 08: Trek to Numala Base Camp 4440m/14,563 ft -05/6hrs.
After Dho Tarap enter into nice village of Tokyu Gaon one of the largest village of this region, morning starts with climb for few hours to reach at this lovely village of Tokyu Gaon, with an old monastery with time permitting visit the monastery and continue walk past farm villages to reach a grassy field at the base of high Numa-la pass for overnight stops.
Day 09: Trek to Gyambo 4,250m/13,940 ft via Numa-la pass 5,238m/17,180 ft -06/7hrs.
Morning begins very early at dawn to cross Numa-la at above 5,238 meters, on the highest point of the journey, as climb leads steep hilly slopes for few hours to reach at Numa-la pass top facing views of snow capped mountains from Dhaulagiri mountain range to Kagmara peak and looking down at beautiful valleys and surrounding dramatic landscapes, after an enjoyable moment descend to the base of the pass, then walk on gradual path to overnight stop on summer pasture at Gyambo.
Day 10: Trek to Temche 3,995 m/13,103 ft -05/6hrs.
A great scenic and pleasant walk from here to reach at Temche, as morning follows a narrow path reaching into alpine woodland of tall juniper, pines and fir tree lines to reach at Temche for overnight halt, after walking with grand views heading ups and down along gradual winding path to Temche.
Day 11: Trek to Ringmo Gaun 3,641m/11,942 ft -05/ 6 hrs.
After being in complete isolation away from main villages and human settlement where today walks leads with short winding trail overlooking grand scenery of surrounding country and then descend towards Ringmo Gaun for overnight stop, located close to Phuksundi Lake, also called as Ringmo Lake.
Day 12: Trek to Phoksundo Lake 3, 600m/11,808 ft -02hrs.
Walk leads to a short distance today of few hours of gentle good treks reaching down by the lake shore and crossing few streams to reach at the bank of Phoksundo Lake, with time to marvel beautiful views of surrounding landscapes and peaks of Kagmara, and hike by the lake side.
Day 13: Trek to Chhepka 2,678 m/ 4,7514ft - 05/6 hrs.
After a wonderful time at Phoksundo Lake a major highlight of the adventure where walks leads to cross few fast streams with uphill past farm villages of walnut trees close to a stream of Dhera, a small cattle herders settlements, from here a short climb to Rahagaon village of Thakuri a Hindu local tribe, then further hour climb to reach overnight camp at Chhepka a small farm village.
Day 14: Trek to Jhuphal 2,475m/8118 ft-05/6hrs.
From Chhepka entering into more farm villages of Hindu tribes Roka Chettries and Thakuri Malla with nice tended terraces reaching closer to more nice and active villages past Dunai, and then on good road within patch of pine woodland to reach back at Jhuphal for overnight stop, and last day around Dolpo area.
Day 15: Fly from Jhuphal to Nepalgunj on same day drive to Kathmandu.
Morning as per flight time for Nepalgunj transfer to Jhupal airstrip, a short scenic flight brings you at Nepalgunj airport and then taking Bus ride to reach back to Kathmandu with scenic views of mountains during overland journey.
Cost Includes
All needed transport By Bus.
Nepalgunj - Juphal - Nepalgunj Flights
Hotel pick up/drop by taxi.
Food (Breakfast/Lunch/Dinner) During a Trek.
Mountain Accommodation (Tea houses)
Excellent Guide (Food, Salary, Insurance, equipment, Government License Holder).
All needed Trekking Permit.
Special Permit For Dolpo region.
Cost Excludes
Tea ,coffee , beer, cola, mineral water,hot water , Wi-Fi  ,battery charges ,hot shower etc.
Your all equipment.
Your Travel insurance.
Tips for guide and porter
FOR HEAD
Sun hat / Scarf
Sun glasses and Head light
FOR UPPER BODY
Water Proof Jacket
Down Jacket / Warm Jacket
Light Weight T-shirt (At least 1 pair)
FOR LOWER BODY
Water Proof Pants
Running tights
Light Weight Pant
FOR HAND
Gloves
FOR FEET
Thin Inner socks (At least 2 pairs)
Woolen socks
Trekking boots (preferred comfortable boots)
OTHER ACCESSORIES
Sleeping bag
Water bottle etc
Suncream
Water purification tablets
Toiletries (Toilet paper etc)
Warm hat
Trekking Bag Etc.