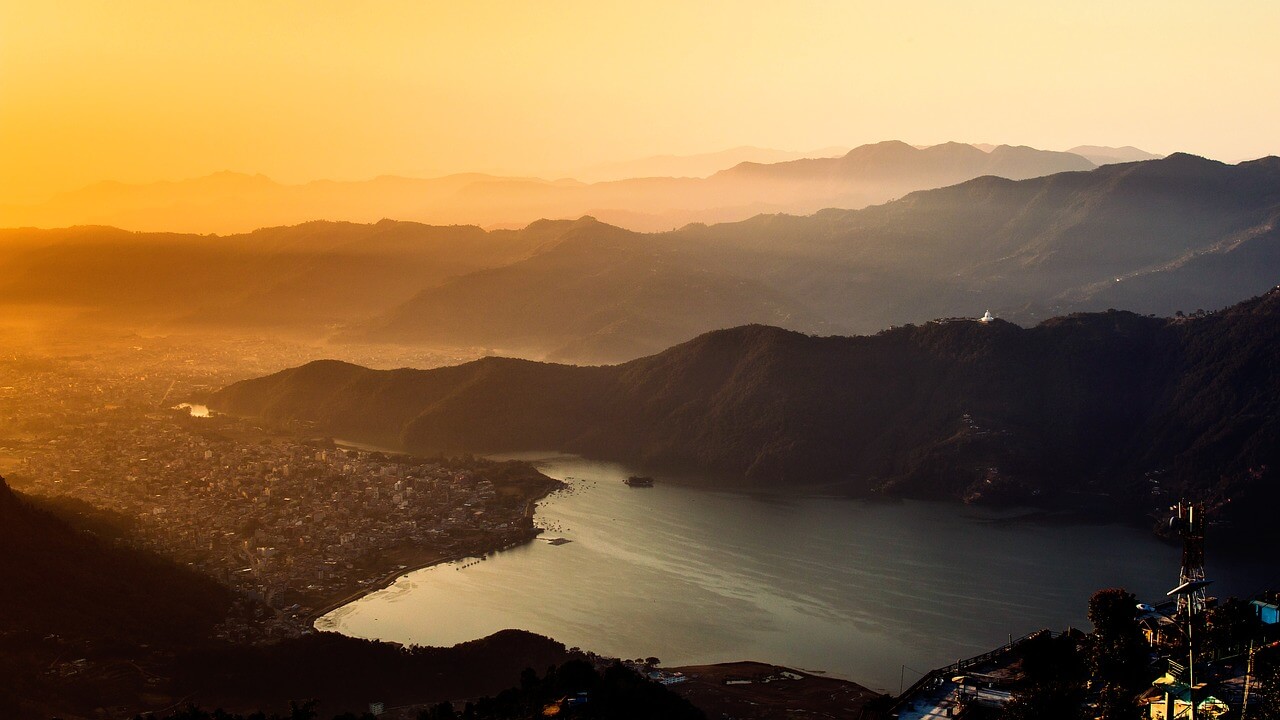 Pokhara located mid-west of Nepal which is 220 k.m. driving distance from Kathmandu and by air 30 minutes of scenic flight, a popular touristic spot with Annapurna-Lamjung-Dhaulagiri and Manaslu mountain views including majestic Machhapuchare 'Fish-Tail peak' with serene Begnas and Phewa lakes.
Early morning our guide will pick you from your hotel by the Phewa Lake side for a short drive
to scenic hill at Sarankot for beautiful sunrise views over array of snow capped peaks from world's 7th highest Mt. Dhaulagiri 8,167 m, 10th highest Mt. Annapurna 8,091 m and 8th highest Mt. Manaslu 8,163 m including range of smaller peaks with ever present majestic Mt. Machhapuchare "Fish Tail" standing high at 6,993 meters.
Sarankot hill highest spot near Pokhara city with an altitude of 1, 460 m high with breathtaking views of mountain range, including Pokhara green valley with Phewa Lake below, Sarankot is also a popular spot for paragliding which is one of the most active sports in Pokhara.
After a great enjoyable experience return back to hotel by 8-9 a.m. for breakfast and refreshment for an hour, our next tour starts with a short drive to Devi's water fall with Gupteshwor Mahadev cave with lunch on route sightseeing places with tour of International Mountain Museum, recently added in Pokhara is the Mountain Museum the first of its kind in Nepal, established and built by Mountaineering Association (NMA),  on 1st  Nov 1973, initiated the establishment of International Mountain Museum (IMM) in Pokhara. The basic objective for its establishment was made to record, document and chronicle the past and present development of mountaineering activities in the world in general and to preserve the saga of the momentous feats in the history of mountaineering in the Himalayan peaks in particular. The foundation stone of IMM was laid on 1 Dec, 1995. The soft opening of IMM took place on 29 May, 2002 where it was officially opened on 5 Feb, 2004.
An interesting place to gather knowledge of the mountains, expeditions, flora / fauna, geography, history of Nepal mountaineering and more, located just near the main local area of Pokhara.
After a super scenic and cultural tour back to hotel by approx 3 p.m: