Nepal with high mountains and deep valley including rolling green hills, hard to imagine that one could take part in Jungle Safari on an elephant backs or Jungle Drive in four wheels on the look-out for games and wild life.
Nepal an amazing country of high mountains to alpine hills to low warm sub tropical areas the flatland of Nepal southern zone known as Terai belt, where deep dense verdant forest are located.
Around these deep green forest and rivers where one can enjoy exciting holiday around famous National Park of Nepal.
Chitwan National Park Asia's best and number one parks for wild-life in the comfort of luxury and standard Jungle Lodge and Resorts, offers enjoyable programs and jungle activities form elephant ride, jungle drive in four wheels-nature or jungle walks with canoe ride on the lookout for rare Royal Bengal Tiger, one horned rhinoceros, four types of deer (Sambar-spotted-hog and barking deer) monkeys-leopard-wild cats-hyena-jackals to crocodiles (marsh mugger & ghariel).
Around jungle activities includes bird watching programs for few hours, has this park hosts more than 700 species of exotic bird life including migratory birds.
Other Park of interest are Bardiya and Kosi-Tappu Wildlife reserves offering similar facilities and wild-life but involves long distance drive and flights.
Area 968 Sq. Kms. (8 hrs driving journey, 50 mins by Air to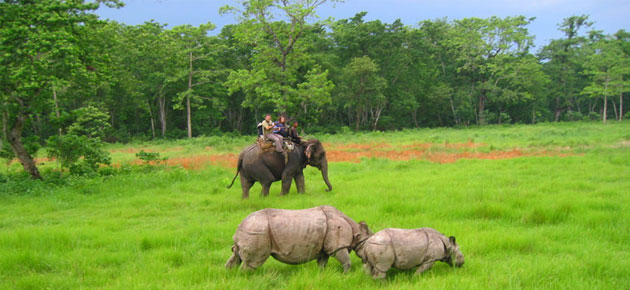 Area 932 Sq.Kms. (5 hrs driving journey from Kathmandu, 25 mins by air